Freya Bramble-Carter (Ipswich 1991 -)
---
About
Freya Bramble-Carter is a London-based ceramics artist, known for works that tap into the universal power of nature and the feminine forces of the Earth. Freya's imagination, life experiences, and personal philosophies all influence her process and the forms she creates. Her work ranges from fine homewares including plates and bowls to large outdoor sculptural pieces, and even water features for interior or outdoor spaces. Applying her talent to artisan glazes and handcrafting unique silhouettes, Freya's limited-edition pieces are designed to elevate the everyday and inspire awe through their textures, colors, and shape.

Before studying fine art at Chelsea College of Arts, Freya grew up with clay covered hands learning from her father and fellow ceramicist Chris Bramble. She compliments her creative practice by teaching classes, but often enjoys 'unlearning' the rules when it comes to making her own pieces. She relishes the magic of making and how clay as a medium is full of endless, fluid possibilities. Her connection to the medium is a helpful tool, as clay is a teacher on many levels. Always learning to let go, reimagine, and adjust, Bramble-Carter's relationship with her medium is ever evolving. Freya allows flow and freedom in her work as well as structure and strength. She believes in creating works that she can 'impart with a piece of my soul.' Freya was a beloved contestant on The Great Pottery Throw Down and recently was invited back to judge a challenge on the most recent season.

Freya Bramble-Carter is represented by Cynthia Corbett Gallery.
Work Selection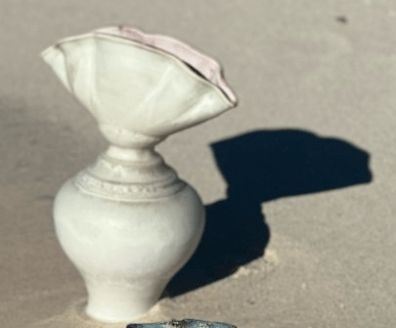 Lady Poseidon , 2022/21 in collaboration with Florence St George