About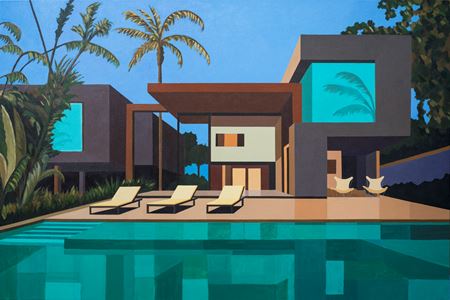 Andy Burgess Tropical House, 2019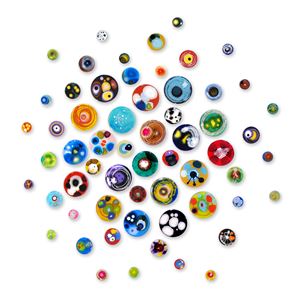 Klari Reis Hypochondria Multicoloured, 60 pieces, 2019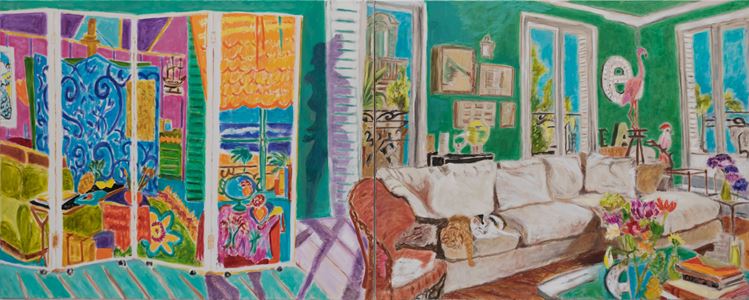 Susanne Kamps Behind the Screen, 2019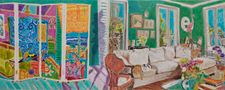 About the Artist
More info
x
Andy Burgess is known for his renditions of modernist and mid-century architecture, panoramic cityscape paintings, and elaborate mosaic-like collages made from vintage papers and ephemera collected over many years. Burgess continually expands his artistic vocabulary by mastering various media, more recently immersing himself in photography and printmaking. In 2016, he was invited to Tandem Press, Madison, Wisconsin to collaborate with master printmakers to produce a series of images in limited editions in various media.

Burgess explores in depth the genesis of modern architecture in Europe and the US and its relationship to modern art, avant-garde design and abstract painting. Burgess explains his fascination with modernist architecture thusly:

"Despite the huge impact of early modern architecture, the innovative and subtle minimalist buildings that I am researching, with their concrete and steel frames, flat roofs and glass walls, never became the dominant mode of twentieth century building. We have continued to build the vast majority of houses in a traditional and conservative idiom, so that these great examples of modern architecture, designed by the likes of Gropius, Loos and Breuer to name but a few, are still shocking and surprising today in their boldness and modernity, almost a hundred years after they were built."

By rediscovering and reinventing these architectural gems and bringing them to life again with the brush, Burgess is breathing fresh life into this critical area of modernism and deepening his own exploration of the meeting points between representation and abstraction.

Alongside the large-scale paintings Burgess creates collages which reflect his love of vintage graphics, particularly those from the 1930s -50s, a "golden age" in American graphic design and advertising. Burgess has been collecting vintage American ephemera for many years; this ephemera is then unapologetically deconstructed, cut up into tiny pieces and reconstructed into visual and verbal poems, dazzling multi-coloured pop art pieces, and constructed cityscapes.
More info
x
Klari Reis uses the tools and techniques of science in her creative process, constantly experimenting with new ways to apply materials and methods. She is driven by curiosity and her desire to explore and document the natural and unnatural with a sense of wonder and joy. The artist currently works in San Francisco, close to one of the largest concentrations of life science companies in the world. Klari takes advantage of this proximity to collaborate with local biomedical companies and thus receive inspiration from the cutting edge of biological techniques and discoveries; this context grounds her artwork and lets her authoritatively explore the increasingly fuzzy line between the technological and the natural.

The unifying theme of Klari's art is her mastery of a new media plastic, epoxy polymer, and the fine control she brings to its reactions with a constantly-expanding variety of dyes and pigments. The UV-resistant plastic, similar to resin, supplies a common framework for the methods and language that she uses to explore and express interactions of material and color on a microscopic level. Compositions display brightly colored smears, bumps and blobs atop aluminum and wood panels. She pigments the plastic with powders, oils, acrylics and industrial dyes, built up through many layers of the ultra-glossy plastic. The shapes and colors bleed, blur, shift, and spread becoming remarkable through their eccentric detail. A skilled technician with a studio for a laboratory, Klari has turned these processes of her own invention into science in the service of her art.

Klari continues to develop her process and explore her unique synthesis of biology and creativity via her installation works, Hypochondria. The projects consist of hand painted petri dishes mounted on the wall at varying distances in groupings of 150, 60, or 30 pieces.

Klari Reis is represented by The Cynthia Corbett Gallery. Her work has been exhibited worldwide and public collections include Microsoft Research in Cambridge, UK; Next World Capital's offices in San Francisco, Paris, and Brussels; the MEG Centre in Oxford, UK; Royal Caribbean Cruise Lines; The Peninsula Shanghai Hotel; Theo Randall restaurant in London's Intercontinental Hotel; Standard Life Investments in Bristol and London; Morley Fund Management, The Pullman Group, T.Rowe Price and Great Ormond Street Hospital (Morgan Stanley Clinical Building part of the Mittal Children's Medical Centre) in London; the Stanford University Medical Center Hoover Pavilion in California; and Elan Pharmaceuticals, Genentech, Acetelion and Cytokinetics in South San Francisco.

Klari's work has been featured in international publications such as The New York Times, GQ, Wired UK, Nature Chemical Biology, Elle Magazine, Time Out London, Artweek San Francisco, Art in America, Art Ltd. Magazine, Giornale Del Medico, Science Magazine, The Times, The New York Post, The Independent, Evening Standard Magazine, Frieze Magazine, The Financial Times, San Francisco Business Times, BBC1, CNN Business Report and CBS News Market Watch.
More info
x
The paintings of Susanne Kamps are chromatic organisms, entirely of their own kind. On the
one hand, they assert their obligation to tradition, on the other hand they celebrate individuality
and boundless independence, as if they never heard of the great role models they evoke…´
wrote one art critic, adding: ´And the beholder, the more he or she tries to grasp the tension,
experiences deja-vu – the ´aha´ effect. Who would not, while looking at the painting of Susanne
Kamps, think of Matisse…´ - and indeed, her painting Behind the screen, shortlisted for the 5th
Edition of the Young Master Prize, pays homage to Matisse´s Interieur aux aubergines (1911).

Susanne Kamps studied under the late Prof Herman-Josef Kuhna at the Academy of Art in
Munster, Germany. She works in Dusseldorf, and has also worked in France during several
extended stays in Paris (Cite des Arts) and at Roquebrune on the Cote d´Azur. She has also
worked in Israel at the Ein Hod artists´ village. Her paintings have been shown in Germany,
France and Israel and are in several collections, including the German Re-Insurance Company,
WGZ Bank and the Heuking, Kühn law firm.