Richard Saja
---
About
RICHARD SAJA is an artist making work in Catskill, New York. After first attending the University of the Arts in Philadelphia to study surface design, he devoted his studies to the great books of Western Civilization at St Johns College in Santa Fe, NM and received a BA as a math and philosophy major. After a brief stint working as an art director on Madison Ave., all his interests coalesced and a small design firm, Historically Inaccurate Decorative Arts, was born in the early aughts.

Though he occasionally feels the need to explore avenues of expression beyond that of the needle, the majority of Saja's work focuses on creating "interferences" of the formal patterns of French toile through embroidery.

He has exhibited internationally with shows in New York, Paris, London and Berlin and the National Museum of Embroidery in South Korea and his work has recently been exhibited at the Museum of Fine Arts Boston and the Toile de Jouy Museum in Josas, France.
Work Selection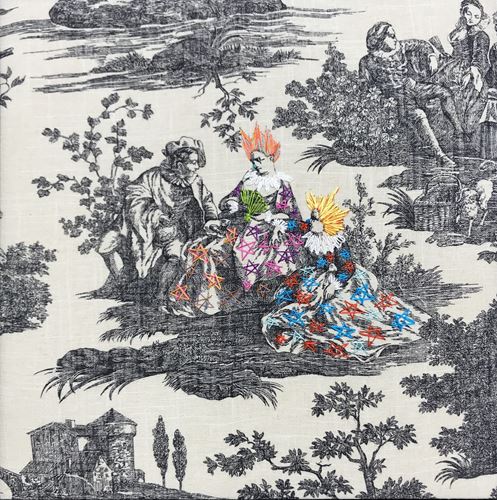 Another Proposition