About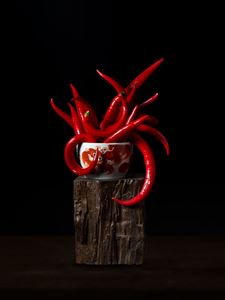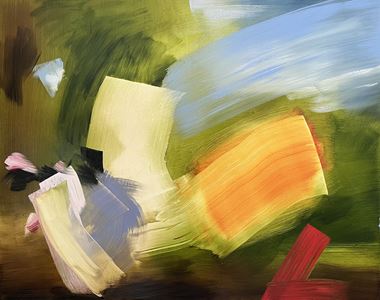 Elise Ansel Venus and Adonis, 2022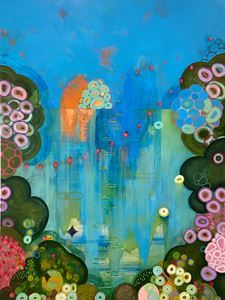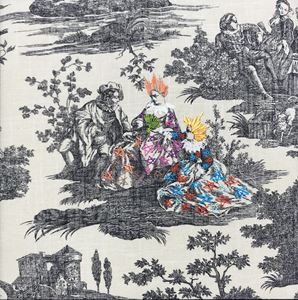 Richard Saja Another Proposition
Sean Flood Median. oil on canvas. 36x36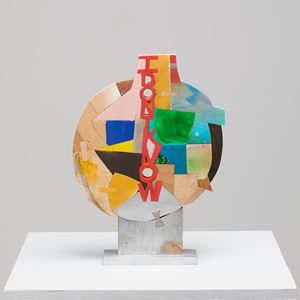 Damien Hoar de Galvan I don't know






About the Artist
More info
x
Well known for her costume and fashion design for opera, Han Feng's clothing, design, and art installations have been featured in major exhibitions at the Victoria and Albert Museum, London; Neue Galerie and Cooper-Hewitt National Design Museum, New York, among others. She lives and works in New York and Shanghai.

Her photographs have been exhibited in Provincetown, Boston, New York, and China. Han Feng began working in photography several years ago when colleagues and friends complimented her on her eye for the medium and challenged her to pick up a camera. Her images come from her love of ceramics, cuisine, and photography. All the fruits and vegetables in the images were sourced from local specialty and farmers markets in New York City. The ceramic objects and sculptures used in her photographs are gifts from artists around the world as well as pieces from her private collection.
More info
x
ELISE ANSEL was born and raised in New York City. Ansel received a BA in Comparative Literature from Brown University in 1984. While at Brown, she studied art at both Brown and the Rhode Island School of Design. She worked briefly in the film industry before deciding to make painting her first order medium. Ansel has exhibited her work throughout the United States and in Europe. Her works are held in the permanent collections of the Museum of Contemporary Art in Krakow, the Bowdoin College Museum of Art and the Evansville Museum of Arts and Sciences. She is represented by galleries in New York, London, Connecticut, Santa Fe, and Detroit.
More info
x
SARAH LUTZ was born in Madison, Wisconsin in 1967 but lived most of her childhood in Vermont and Guatemala. She holds a B.S. in Studio Art from Skidmore College and an M.F.A. from The American University. Her paintings and prints have been exhibited widely, including solo and group exhibitions at The Schoolhouse Gallery, Provincetown, MA, The Richmond Art Center, Windsor, CT, INK Miami, the E/AB Fair, The Tang Teaching Museum and Art Galleries at Skidmore College and The Painting Center, Lohin Geduld Gallery and Lori Bookstein Fine Art in New York. Sarah has received fellowships from Dartmouth College, the Vermont Studio Center, and MAPSpace in Port Chester, NY. Her work is in numerous private and public collections including the Provincetown Art Association and Museum, The Tang Museum, The Art in Embassies Program, and a recent acquisition of a suite of monoprints by New York Presbyterian Hospital. In 2013 Lutz was interviewed by Jennifer Samet for Beer with a Painter on Hyperallergic and in 2015 she was the subject of an Artist Profile in Provincetown Arts Magazine. She is represented by The Schoolhouse Gallery in Provincetown, MA where she has exhibited annually since 2002. Lutz collaborates regularly with master printer Marina Ancona of Ten Grand Press. Together they recently published her first limited edition color etching and a new series of monotypes, Abacus. Lutz lives and works in the Hudson Valley, New York and Truro, Massachusetts.
More info
x
RICHARD SAJA is an artist making work in Catskill, New York. After first attending the University of the Arts in Philadelphia to study surface design, he devoted his studies to the great books of Western Civilization at St Johns College in Santa Fe, NM and received a BA as a math and philosophy major. After a brief stint working as an art director on Madison Ave., all his interests coalesced and a small design firm, Historically Inaccurate Decorative Arts, was born in the early aughts.

Though he occasionally feels the need to explore avenues of expression beyond that of the needle, the majority of Saja's work focuses on creating "interferences" of the formal patterns of French toile through embroidery.

He has exhibited internationally with shows in New York, Paris, London and Berlin and the National Museum of Embroidery in South Korea and his work has recently been exhibited at the Museum of Fine Arts Boston and the Toile de Jouy Museum in Josas, France.