Andy Burgess (UK 1969 -)
---
About
Andy Burgess is known for his renditions of modernist and mid-century architecture, panoramic cityscape paintings, and elaborate mosaic-like collages made from vintage papers and ephemera collected over many years. Burgess continually expands his artistic vocabulary by mastering various media, more recently immersing himself in photography and printmaking. In 2016, he was invited to Tandem Press, Madison, Wisconsin to collaborate with master printmakers to produce a series of images in limited editions in various media.

Burgess explores in depth the genesis of modern architecture in Europe and the US and its relationship to modern art, avant-garde design and abstract painting. Burgess explains his fascination with modernist architecture thusly:

"Despite the huge impact of early modern architecture, the innovative and subtle minimalist buildings that I am researching, with their concrete and steel frames, flat roofs and glass walls, never became the dominant mode of twentieth century building. We have continued to build the vast majority of houses in a traditional and conservative idiom, so that these great examples of modern architecture, designed by the likes of Gropius, Loos and Breuer to name but a few, are still shocking and surprising today in their boldness and modernity, almost a hundred years after they were built."

By rediscovering and reinventing these architectural gems and bringing them to life again with the brush, Burgess is breathing fresh life into this critical area of modernism and deepening his own exploration of the meeting points between representation and abstraction.

Alongside the large-scale paintings Burgess creates collages which reflect his love of vintage graphics, particularly those from the 1930s -50s, a "golden age" in American graphic design and advertising. Burgess has been collecting vintage American ephemera for many years; this ephemera is then unapologetically deconstructed, cut up into tiny pieces and reconstructed into visual and verbal poems, dazzling multi-coloured pop art pieces, and constructed cityscapes.
Work Selection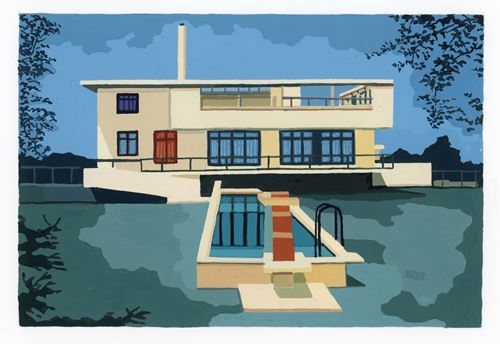 Wakasa House (Horiguchi Sutemi) 1939 Tokyo, Japan.