Masterworks Fine Art
Robert Adelman ()
Rod Ubillus ()
Chelsea Troper ()
Lina Kalaida ()
Jane Park ()

About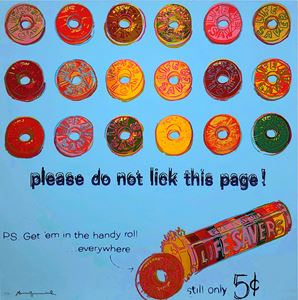 ANDY WARHOL Life Savers, Unique Trial Proof, 1985
Andy Warhol, Life Savers, Unique Trial Proof, 1985 is a unique trial proof from the artist's famous Ads series. Warhol created a series of works inspired by famous advertisements popular in American culture during 1985. This screenprint was made alongside prints of ads for Macintosh, Chanel perfume, Paramount Studios, Volkswagen and more, embodying Warhol's fascination with the power of advertising in American society. Warhol often tackled issues like consumerism, commodification and the line between commercial and fine art, and the Ads Series reflects his artistic interests. The contrast between the brightly colored candies and the pure saturated blue of the background creates a compelling composition. Warhol effortlessly combines the commercial manufactured elements of the original Life Savers ad with his own painterly touch in the hand-drawn lines of the candies to produce this eye-catching dichotomy of a work.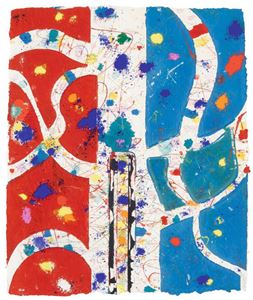 SAM FRANCIS Untitled, 1982
Sam Francis Untitled, 1982 is a brightly painted unique work of art that soothes the soul at first glance. No matter where you look you see balance and harmony. Each element is in complete sync with one another—each color, form, and shape. Upon closer inspection, Francis instills a sense of chaos within the pictorial frame while maintaining equilibrium. Ingenious is the nature of this work that drives one to continue to stare in admiration. The background consists of three solid colors of red, white, and blue that are interlocked with each other. The foreground is playfully colored with splotches of paints in lighter hues of blue, lavender, orange, purple, and yellow. They are splattered evenly throughout the stretch of the paper but add just the right amount of liveliness. Cleverly rendered is the composition of the serpent-like curves that weave through each other. Each curve sections off the background into irregular shapes that create a map-like image. Anyone can appreciate this piece and sense the poetic and structural qualities Francis has mastered. You can experience the movement and energy that undulates throughout the surface where tactility becomes within of reach.


Other Represented Artists