Carousel Fine Art
Laura McDaniel Horowicz ()
Denise Serrano ()
Philippe Horowicz ()

About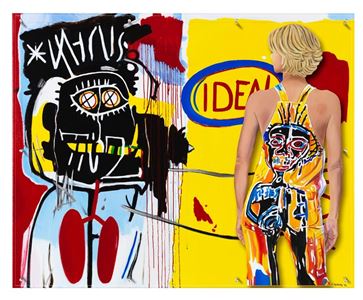 Caroline Dechamby Ideal - Tribute Basquiat
About the Artist
More info
x
Artist, designer, entrepreneur. Throughout her career spanning over three decades, Caroline Dechamby has used art and history as a source of appropriation through which to develop her own niche, and place of resonance for her audience, within the largely male-dominated canon of painting.
Dechamby's paintings re-asses masterpieces by household names — among them Pablo Picasso, Jean-Michel Basquiat, Piet Mondrian, as her own, painting herself (either full-bodied or as silhouette) into the pieces in the act of creation. In doing so, Dechamby symbolically and visually takes back the field from "the boys" reimagining art history in her own vision, and allowing for viewers, especially female viewers, to envision themselves too in the empowered position of creative genius in place of the artist's painted avatar.
Repeatedly depicting her own figure from behind, Dechamby creates from her likeness both a recognisable autobiographical character, as well as an anonymous silhouette that allows for an immediate recognition and connection by viewers. Even by the very act of appropriating these works does Dechamby echo the trends of art history – her work, in a populist spirit, follows directly in the footsteps of artist like Marcel Duchamp, or more recently Elaine Sturtevant. As a woman, her outright placement of herself as an artist in the same league of famous predecessors she appropriates offers a powerful feminist statement, one that is intended outside the hallowed halls of museums and the institutionalised art world.
Other Represented Artists