About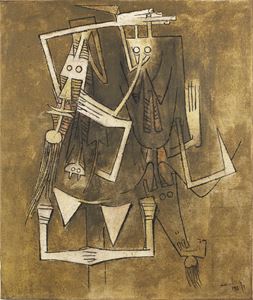 Wifredo Lam "La Jumeaux II" 1963-69
Exhibited:
Kessel, Galerji Dobbelhoef, Wifredo Lam, 25 olieverfs-childerjen, 15 pastels, etsen en litho's en Joan Miro, 30 kleuretsen en litho's, 1978
Nantes, Musée des Beaux-Arts, Wifredo Lam, Voyage entre Caraibes et avat-gardes, 2010, p. 120, no. 48, illustrated in colour

Literature:
Michel Leiris, Wifredo Lam, Milan 1970, p. 212, no. 168, illustrated in color (in an intermediary page)
Max-Pol Fouchet, Wifredo Lam, Paris 1976, p. 243, no. 548, illustrated in black and white (on an intermediary page)
Max-Pol Fouchet, Wifredo Lam, Barcelona 1989, p. 263, no. 580, illustrated in black and white (on an intermediary page)
Lou Laurin-Lam and Eskil Lam, Wifredo Lam: Catalogue Rasoinné of the Painted Work, Volume II, 1961-1982, Lausanne 2002, p. 317, no. 69.39, illustrated in black and white (on an intermediary page)
Jacques Leenhardt, Wifredo Lam, Paris 2009, p. 237, illustrated in color
Bonhams Auction. Post-War & Contemporary Art. New Bond St, London. 12 March 2020, p. 104, Lot 32

COA by Lou Laurin-Lam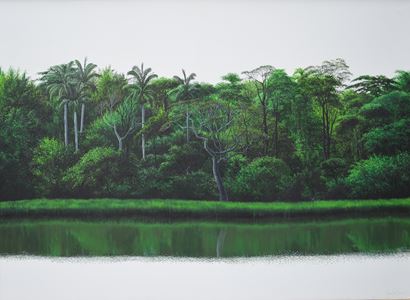 Tomás Sánchez "Orilla" 1988

About the Artist
More info
x
The internationally renowned Cuban painter Wifredo Lam (1902-1982) was a precursor of a cross-cultural style of painting, infusing Western modernism with African and Caribbean symbolism. His peripatetic life brought him into contact with all the avant-garde movements of his times―cubism, surrealism, CoBrA―whose incentives for greater freedom in art, for unleashing the unconscious, and for exploring the "marvelous" through automatic writing had great impact on his work. But Lam never lost sight of the world around him and like his friend Aimé Césaire took on the struggle "to paint the drama of his country, the cause and spirit of the blacks." He invented a highly original voice that speaks in the name of "defending human dignity" and "saluting freedom."
In 2015 a retrospective exhibition of his works opened at the Centre Georges Pompidou in Paris; this exhibition later travel to the Reina Sofia Museum in Spain and the Tate Museum in London afterward.
Collection of the artist. Paris.
Private collection, Europe (Acquired directly from the above)
De Vuyst, Art Ancien, Moderne et Contemporain: Premiere Vacation, 22 October 2011, Lot 307
Private Collection in London, England.

More info
x
Known primarily as a painter, Tomás Sánchez is a versatile artist who has experimented with printmaking, sculpture and photography. However, he is best known as a draftsman and painter, particularly since he won the Joan Miró Drawing Prize in 1980. His work is an expression of parallel interests that cannot be reduced to a mere chronological progression. In it, landscape enjoys a special place, but his other themes —expressionism, trash cans— as well as his media —watercolor, oil, acrylic, tempera, ink, pastel— coexist in a ceaseless motion of collaboration
Private Collection, Mexico City
Christie's New York, 23 November 1933, lot 40
Galeria Ramis Barquet, New York
Christie's New York, Latin American Art 13 November 2020, lot 7. Illustrated on page 17 of the catalog
Other Represented Artists