Art Angels
Los Angeles
United States

9020 Beverly Blvd
California 90048 West Hollywood
United States
Phone : 310-693-5500
Email : info@artangels.net

About

With flagship galleries in Los Angeles and Miami and permanent art curations in Nobu Hotel Miami Beach, Eden Roc Hotel Miami Beach and Catch Restaurant Los Angeles, Art Angels was founded in 2013 by Jacquelin Napal and Kat Emery.

Art Angels' contemporary and provocative style has attracted collectors from around the world. Exhibiting a selection of both established and emerging artists, Art Angels offer a truly eclectic mix for their clientele with an ever growing number of innovative artists joining the Art Angels family.

The rapidly successful gallery has become the go-to destination for artists and collectors alike, who want to be a part of something visionary and unique. Attracting a wealth of high profile businesses and individuals as clients, Art Angels offers the VIP experience whilst maintaining the down to earth, approachable vibe it built itself on.

Reflecting on their success, the Angels note; Art Angels was built out of a shared love for art and the belief that everyone should have the opportunity to enjoy and acquire art in an environment that is both welcoming and inspiring.

Having become the go-to gallery for the chic and elite, many would be happy with the empire that they've built, but this is just the start and the girls show no signs of slowing down. Now one of the leading galleries in Los Angeles and a major player in the art and creativity sphere, it is impossible to ignore this hugely successful business. The gallery has a core team of art specialists dedicated to providing collectors, designers, developers and corporations with the tools needed to offer innovative and creative art from around the world.

Art Angels describe themselves as a premium luxury brand who are inviting and very approachable. Whilst grateful for their rapid growth and success, their determination to continue to grow and push boundaries shines through. Showcasing a number of barrier breaking exhibitions including David Yarrow, Russell Young, Flore, Nick Veasey and Mike Dargas to name a few, Art Angels are definitely not afraid to break tradition and take risks. Along with their innovative suite of artists, Art Angels encourage thinking outside the norm and making sure everything is done with intention and creativity. The gallery was quick to build a cult following - so much so that they have recently expanded their LA gallery and recently opened a new space in Miami, with more to come.

Reflecting on the past few years, Kat Emery notes; "We are self-financed with two locations and many more to come, that will continue to service thousands of clients across the world. Our passion has never dwindled and we are always so inspired when we meet new talent and cannot wait to share innovative new artists with our clients.

We firmly believe that every acquisition should be a marriage of aesthetic appreciation and wise investment and we make it our business to offer both the beginner and experienced investor the perfect marriage of an enriching and sophisticated appreciation of contemporary art and the financial satisfaction of investment performance."

The future certainly looks bright for this female powerhouse and the Art Angels themselves might just be their own best advertisement. Creating from the heart and trusting their own intuition, the girls have gone from strength-to-strength in a typically male dominated world and have a real passion for art and women in business.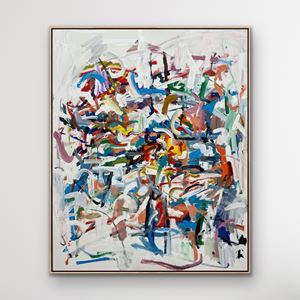 Other Represented Artists