About
For over 50 years, Adelson Galleries has handled some of the finest American paintings to come to market, placing works in major private and public collections. Distinguished for its expertise in the fields of American Impressionism, Realism and Modernism, the gallery was founded in 1965 by Warren Adelson, and is located today in Midtown Manhattan. In 2012, Warren's children, Adam and Alexa, opened a Contemporary gallery in Boston, MA.
Since 2018, the two have taken their experience and the Contemporary artists that they have cultivated to Palm Beach, where Adelson Galleries has quickly become a staple in the community.

Today, the entire Adelson family works together between New York and Palm Beach. Our program of exhibitions and stable of artists feature some of the finest examples of recent art history. We believe our international selection of living artists will fill in the blanks in our next generation's art history textbooks. Our family believes in pursuing artists with aesthetic, technical, and academic merit. If art is a reflection of culture, we hope to provide a significant and poignant view.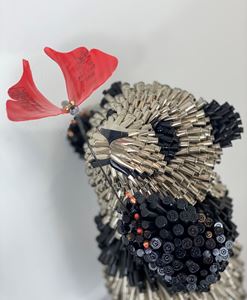 Federico Uribe Chasing Butterflies (Detail)