Adelson Cavalier Galleries
About
Adelson Galleries (New York) and Cavalier Galleries (New York | Nantucket | Greenwich) have partnered together in opening Adelson Cavalier Galleries on Worth Avenue in Palm Beach, Florida. With a combined 85 years of experience in the art business, each gallery brings their expertise in the fields of Impressionism, Realism, Modernism, and Contemporary Art. The new gallery will focus on exhibiting emerging and established Contemporary artists, as well as handling historically significant artworks by 19th and 20th Century masters. Adelson Cavalier Galleries is open year-round with rotating exhibits.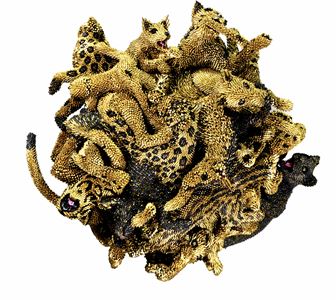 Federico Uribe Congress
The etymology of the word "congress" comes from Latin congredi: con- 'together' and gradi'walk.' Although the word describes similar Congressional hearings that took place in the Roman Empire, today's interpretation of the word more closely resembles the Late Middle English definition, denoting a confrontation in war. Even though the elected officials are meant to "walk together," we see a growing divide in the core beliefs of people in the United States. With an ethically divided country comes the ineffectual discourse of our civil servants. Rather than productive debate, we more often see petty fighting. Federico Uribe's newest sculpture comments on the organized system of meaningless and illogical hostility that occurs in Congress. In this assemblage, made out of bullet shells, Uribe deftly executes a tangled web of animals fighting each other. Bodies intertwine, claws scratch, and mouths are open – ready to bite or howl. The wild cats and dogs fit together perfectly like a puzzle within the confines of a symmetrical sphere. At first the enigma of animals looks spontaneously placed, but upon further inspection, one can see that the artist carefully formed the shapes around each other to maintain the integrity of the orb. The artist is acutely aware of the nature of this violent media, bullet shells; however, it is not his intention to take place in the deliberation. Furthermore, even though the material he uses represents one of the more controversial topics in Congress, Uribe does not feel he can contribute any more information to the debate. Rather, he seeks to expose the futility of circular arguments that seem to occur on a daily basis.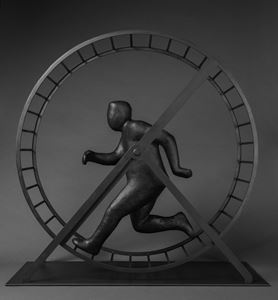 Other Represented Artists