About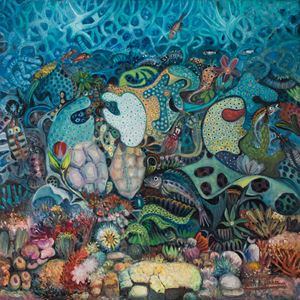 Antonio D. de Haro Origen

—Artistic mysteries can capture the popular imagination. The observer can pretend to be an art historian for a moment and try to place geographically and also in a timeline different objects trying to understand the artist intention.
For example, related to "Origen" we can try to place the artwork in some location (ocean or sea) in the world.

Notice a darker shade of blue as the dominant one. Also notice the turmoil of water which may signal higher currents inside the Ocean. Perhaps transporting warm and cold water to other territories distributing them better and therefore playing an important role in our climate like the Atlantic Ocean does .

The next question is: What is the Artist intention rearranging the colors in that particular manner? Is he just painting a moment in time of the Atlantic Ocean? Or.. Is he making a point of the important role the ocean plays in our climate; therefore, in our lives?

And we can go on and on…

"Origen" is literally beautiful inside and out with its many meaningful messages in just one beautiful artwork.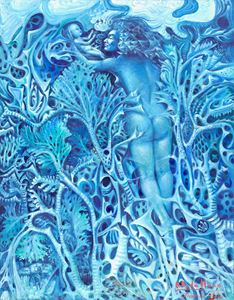 Antonio D. de Haro "El Origen de la Vida"
Oil on Canva "El Origen de la Vida"

Among many other things, it is about Women Empowerment. Following Essay by Luz Weinberg.

Chaos and Calm

Cathartic chaos followed by an elation of calm, wonder and limitless denouements. The birth of a human being bears a striking resemblance to a punishing storm cascading over a vast ocean and the mysteriously haunting tranquility that its aftermath endows above and permanently reigns below. They are one of the same. New Life and Ocean. She feels both. Both surround her. She embraces both. Both overpower her, yet she controls them both. Chaos envelops her still, yet there is only intuitive calm within her. The calmness of strength. It is in the depth of her eyes and reflected in the idolizing gaze of her offspring. They see it in each other's eyes, and the calm multiplies. They know. There is life, ocean life, human life and even afterlife in one singular space, one singular moment, all at arms' reach, and she deserves it all. It challenges and empowers her. Its inspiring blueness, its timeless wisdom and undeterred loyalty; its faithful stability and unwavering integrity. In this one moment, she is granted it all with chaos and calm.
Antonio D. de Haro "Mis Sueños con el Mediterráneo"
Oil on Canvas
44.9 x 57.5 in / 114 x 146 cm
Year 2014

Oil on Canvas "Mis Sueños con el Mediterráneo" is a peaceful oasis of flora and fauna, the observer can appreciate the colorful existance of different species that reside in the Mediterranea sea, including popular coral and fish. Aslo notice the delicate and smooth rocks due to the constant flow of the sea currents. Additionally, one can take a glimpse of unique red coral aslo know as "precious coral" and ranges from stunning blood red to pinkish orange and specifically found in the Mediterranean.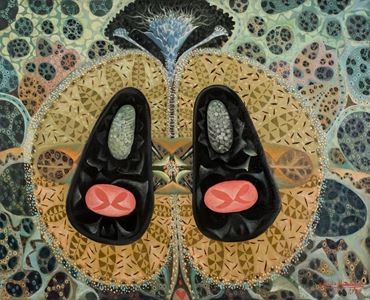 Antonio D. de Haro "Las Sandalias del Pescador"
Oil on Canvas
31.9x 34.4 in / 81 x 100 cm
Year 1989

Oil on Canvas "Las Sandalias del Pescador" -a very modern + contemporary view of the ocean. Strong yet soft corals abound concentrating in the center of the canvas giving the observer the freedom to imagine different shapes depending on their perceptions. For some it looks like lungs, for others it looks like an apple open in half. And for many others it looks like shoes which lead to the name of the artwork " The Fisherman Sandles"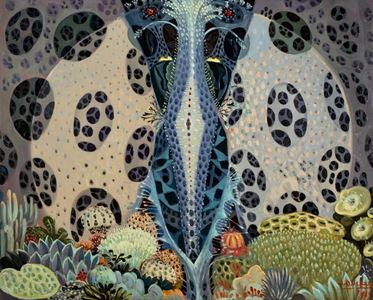 Antonio D. de Haro "Embrión"
Oil on Canvas
32 x 39 | 81 x 100
Year 1998

Oil on Canvas "Embrion" -The artist's underwater fantasy / the artist dream after he submerges to his enchanted underwater world. Effects of lights and currents placed ideas that later on showed up in dreams.
The search and passion for sub surface beauty lead to fantastic dreams of unique underwater experiences.



Antonio D. de Haro "Corales en pastel"
Oil on Canvas
26 x 32 in | 66 x 81
Year 1979

Oil on canvas "Corales en Pastel" masterfully blending shades of purples, greens, blues, yellows, oranges and pinks. One can observe microorganism, fish and corals in what many have described as a marine paridise.