Carolina Sardi (Argentina 1976 -)
---
About
Carolina Sardi is an Argentinean sculptor established in Miami since 1995. She earned her Master Degree in Sculpture at the National University of La Plata, Argentina. She also studied Architecture and Urbanism at the same University and Sculpture with the artist Enio Iommi.

Some of her solo exhibitions include: Panamerican Art Projects Gallery in Miami and Dallas, Lelia Mordoch Gallery in Paris, Cheryl Hazan Gallery in New York; Steps Gallery in London, UK; Heriard Cimino Gallery in New Orleans, Exquisite Tension at the Gulf Coast Museum of Art in Largo, FL; Blue at the Government Center Gallery from Miami-Dade County Department of Cultural Affairs; Over/Under at Flashpoint Gallery in Washington DC; Forest at the Bass Museum of Art in Miami Beach, Bee at Mia Gallery, Miami International Airport ; Imaginary Lines at the Museum of the Americas in Washington DC and Free to be Captive at the Museum of Art of Fort Lauderdale.

She has a broad experience in designing, fabricating and installing public, private and corporate art projects. Some examples of commissioned works include Miami-Dade Art in Public Places, Port of Miami, Baggage Claim, Terminals 4 and 5, Water and Suitcase Projects (2003); Oppenheim Architecture, Ilona Building Fence and Gate, Miami Beach (2001); Related Group of Florida, Icon Building Miami Beach Lobby's Sculptures and The Slade Palm Beach Suspended Sculpture (2004-2005); Grand Venetian Miami Beach Lobby's Wall Sculpture and Epic Hotel Miami Wall Sculpture for the Front Desk (2011); Gates, Fence, Louvers and Lamps for the Apogee Beach Building in Hollywood, FL (2014); Icon Bay Fence for Sculpture Park (2015) in Miami for the Related Group of Florida; Wall Installations for the lobby at the Belfiore Building in Houston, TX ( 2016) and Wall Installations for the Cleveland Clinic in Cleveland, OH (2017).
Work Selection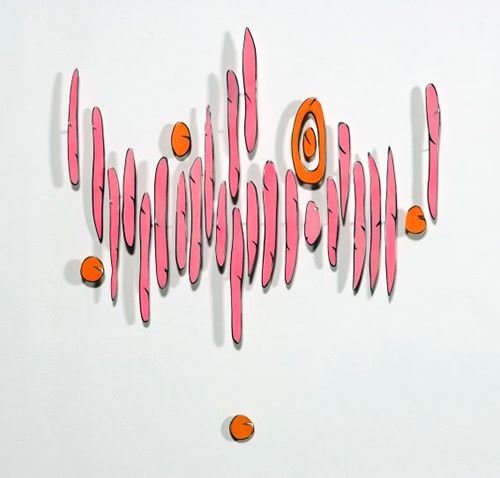 Bright Pink and Orange