Carlos Cruz Diez
---
About
The Franco-Venezuelan artist Carlos Cruz-Diez (Caracas, 1923) has lived and worked in Paris since 1960. He is a major protagonist in the field of Kinetic and Optical art, a movement that encourages "an awareness of the instability of reality."

Carlos Cruz-Diez graduated from the School of Visual Arts and Applied Arts, Caracas, in 1945. While still at art school, he worked as an illustrator for popular Venezuelan newspapers and magazines such as La Esfera, Elite, and El Farol. From 1946 to 1955, he was the creative director at the Caracas branch of McCann-Erickson, the international advertising agency, and contributed illustrations to the Venezuelan newspaper El Nacional.

He first went to Europe in 1955 and lived in El Masnou (Cataluña, Spain), where he began a defining phase in his career, creating his earliest abstract compositions (Parénquimas) and his first Objetos Rítmicos Móviles [Mobile Rhythmic Objects]. He visited Paris that same year, where he saw the Le Mouvement exhibition at the Galerie Denise René. In 1956 he quit producing figurative social protest painting and returned to Venezuela, where he opened the Estudio de Artes Visuales, a visual arts studio for graphic and industrial design. It was during that period that Carlos Cruz-Diez started developing the conceptual platform for his work based on optical and chromatic phenomena, a process that led to the creation of his first Color Aditivo [Additive Color] and Fisicromía 1, in 1959. He and his family settled in Paris in 1960, where he met and discussed his ideas with international artists such as Agam, Tinguely, Soto, Buri, Picelj, Morellet, Camargo, Lygia Clark, Le Parc, Calder, and Vasarely.

Carlos Cruz-Diez articulated his exploration of the phenomenon of color in eight projects:

Couleur Additive [Additive Color], Physichromie, Induction Chromatique [Chromatic Induction], Chromointerférence [Chromo-Interference], Transchromie, Chromosaturation, Chromoscope, and Couleur à l'Espace [Color in Space].
Work Selection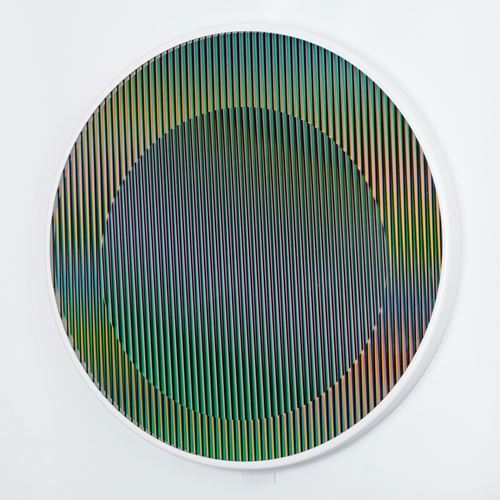 Chromointerference Circulaire