Grace Hartigan (United States 1922 - 2008)
---
Exhibited by
Represented by
About
Renowned for her formative participation in the Abstract Expressionist movement of the 1950s, Hartigan's paintings from the latter decades of her career blend figurative content with her signature sensibility of vibrant color, active gesture and painterly freedom.

Tracing their lineage from an early abstract practice often integrated with visionary signifiers, these canvases extend primarily from the artist's career-long devotion to expressionistic line and color. Hartigan builds on the associative mark-making of Abstract Expressionism to siphon from the collective unconscious a personal rubric of representational symbols.
Exhibition
C. Grimaldis Gallery has proudly represented Grace Hartigan's work and estate since 1979. Hartigan's work is represented extensively in private and public collections worldwide including the Baltimore Museum of Art, the Hirshhorn Museum, the Art Institute of Chicago, the Metropolitan Museum of Art, MoMA, the Solomon R. Guggenheim Museum, and the Whitney Museum of American Art. She is featured in Mary Gabriel's biography, Ninth Street Women: Lee Krasner, Elaine de Kooning, Grace Hartigan, Joan Mitchell, and Helen Frankenthaler: Five Painters and the Movement That Changed Modern Art.
Work Selection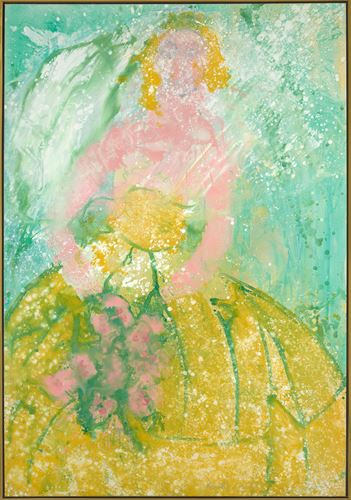 June Bride