Alejandro Rauhut (Colombia -)
---
About
Alejandro Rauhut, born in Bogotá, Colombia, resides and has his Art studio there. Education: 2002, Industrial Design, Universidad de los Andes and 2004, Graphic Design, Universidad La Salle College. Rauhut says about his Series EXCLUSIONS: "These mirrors intervened with maps of different cities dating from around 1800 are a call towards gratitude. These pieces that depending on the light generate different nuances are light boxes where the geometric figure can be turned on and off generating different sensations depending on its state and environment. This makes them not only contemplative but interactive with the viewer since the reflection is a big part of the artwork. This series consists of 8 maps of different cities, each with a different color and geometric figure that represents a wake-up call to gratitude. The cities are Berlin, London, Madrid, Moscow, New York, Paris, Tokyo, Shanghai."
As an Art Curator, I see Alejandro Rauhut developing a new unique style in Visual Art. He connects two Art concepts, Installation and Creation, managed by his excellent talent and skills to become exclusive Artworks that attract and please viewers with their intriguing and surprising changing looks. I point two relevant issues: 1st, Artists contact human minds through their work, theirs and the ones of viewers. 2nd, Abstract Art has endless evolutions, new meanings and presentation ways. Abstraction Master, Wassily Kandinsky, 1866-1944, Bauhaus school of Art artist and teacher, told: "Sensibility will always remain as the last instance." Op Art Master, Victor Vasarely, 1906-1997, said: "Every form is a base for color, every color is the attribute of a form. It is the original idea that is unique, not the object itself." Then, I say that Alejandro Rauhut creates in his exquisite Art simultaneous experiences merging effects of color, light, form, App technology and city maps urban symbols, leading viewers to reach sudden sensations, intimate thoughts or feelings, transcending object and theme description. Not presenting a literal picture of the observable world, he expresses ideas by his novel and simplified forms, re-inventing movement and volume. His Artworks communicate his love for uniqueness, cities and colors. Alejandro Rauhut Art represents a Renaissance for this era, an influential perdurable statement for his time and generations to come. A discourse of betterment by his Art new techniques, shapes and materials, in addition of a novel way to treat common elements and themes transforming them in an inimitable concept. His Artworks also relate with Nature, as they show a great light, connect through their color and movement with human action and each land expanding trough the framed square transparent glass boxes with a diverse geometric form, make every city different, but all illuminated by a bright Sun. Made of black and one color only they gratefully project their lights to the world existing around. Alejandro Rauhut states: "Although at first glance my work may seem a bit eclectic, the experimentation with lights, shadows, reflections, projections and sacred geometry predominates in all my series. Influenced by the oriental culture, my central theme is always the self, divinity and inner search."
Exhibitions: 2021 Community 1.0 and Capas del Ser, RAUM, Bogotá, Colombia; 2020 Subasta Subastarte and Con Intención, Estudio 74, Bogotá, Colombia; 2019 In House, Galería Elvira Moreno, Bogotá, Colombia; 2018 En la Mira II, Galería La Cometa, Bogotá, Colombia. 2017 ARTE FACTOS, Joseph Turenne Galerie, París, France; 2014 Auction FUNDACIÓN VOLVER, Bogotá, Colombia; 2013 MOA Opening, Galería La Cometa, Bogotá, Colombia. Art Fairs: 2022 Art Palm Beach and 2021 Art Basel Miami Week, Contemporary Art Projects USA. 2020 ARTLIMA, Galería Elvira Moreno, Lima, Perú. 2019 SCOPE, Galería Elvira Moreno, Miami, USA. 2019-2018-2017 ARTBO, PLECTO Galería, Bogotá, Colombia. 2017 MAG-SWISS, Montreux, Switzerland. 2016-2015 BURO and Artesanías de Colombia, Bogotá, Colombia.
Work Selection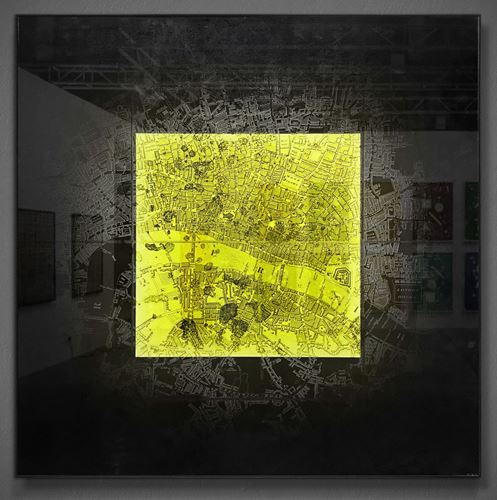 Exclusions London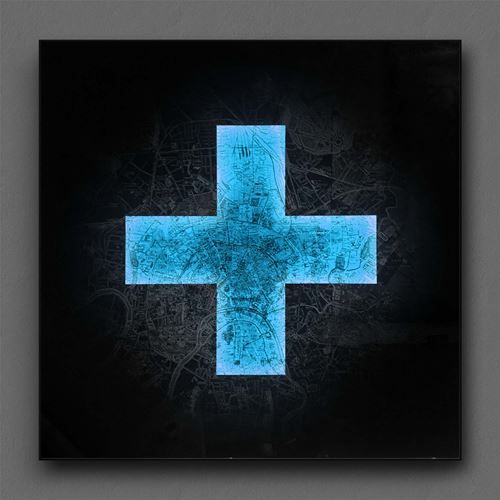 Exclusions MOSCOW
Exclusions BERLIN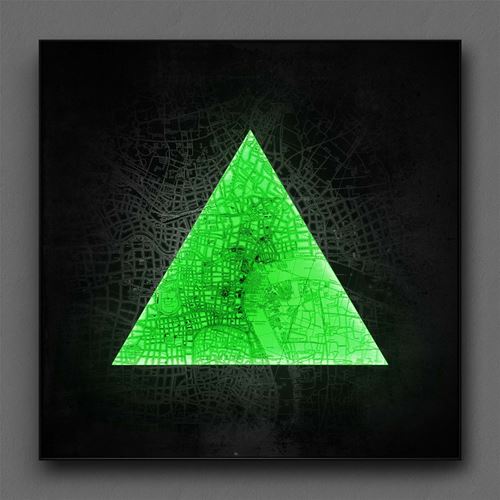 Exclusions SHANGHAI