Cavalier Galleries and Coe + Co Photography Gallery
Lindsay Ebanks (Director)

About
For over 30 years Cavalier Galleries has offered an unparalleled selection of contemporary fine art at premier exhibition spaces in Greenwich, Nantucket, New York, and Palm Beach. The galleries present traditional and representational artwork as well as modern and contemporary works from local and international artists. Cavalier Galleries offers a wide variety of painting, sculpture, and photography by emerging young talents and those who have established their place in the art historical canon.

Coe & Co Photography Gallery is a collaboration between photographer Nathan Coe and Cavalier Ebanks Galleries, bringing to Nantucket and Palm Beach an unparalleled selection of works by leading fine art photographers.

We look forward to assisting you with your newest acquisitions and providing exceptional service surrounding all of your collecting endeavors.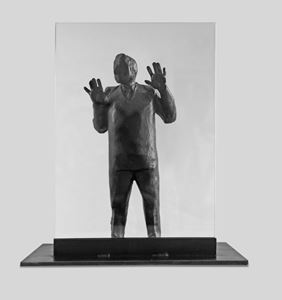 About the Artist
More info
x
Jim Rennert was born in 1958 and was raised in the Southwest United States. Rennert began exhibiting his work in 1993 and has since become an important figure in contemporary sculpture. Rennert's work is exhibited regularly at important American art fairs, in addition to galleries throughout the US and Canada. His works can be found in private and corporate collections worldwide, including monumental bronzes at Palisades Village in California, and the Nemacolin Woodlands Resort in Pennsylvania, as well as a collection of multiple sculptures throughout the town of Naples, FL. Notable public exhibitions include his iconic "Think Big" which debuted in June 2014 in New York's Union Square, now permanently installed on 34th Street, as well as the 2020 exhibition, "Jim Rennert: With These Hands" a collection of monumental works presented at the Ann Norton Sculpture Garden in West Palm Beach, FL.

Rennert's work is figurative, emphasizing movement, action, and contemplation. Looking at various aspects of business life, Rennert presents the contemporary businessman's daily struggle with himself and others. Shifting away from the more refined detail of his earlier sculptures, Rennert's recent works have become increasingly cerebral, with softened characteristics allowing a broader representation of any given person. This reflects a greater focus in his body of work on the everyday challenges faced by any individual, so as to invite an immediate connection with all who view his work.
Other Represented Artists