Galerie Mark Hachem
Mark HACHEM ()
Dorothée QUENTEL ()
Régis ESTACE ()

About
Since the successful opening of the Beirut gallery, Mark Hachem's engagement with the artistic currents of the Middle Eastern and Asian market has increased and flourished. Over the past two decades, the gallery has exposed prestigious artists, initially distinguishing itself from other Parisian galleries for its interest in Kinetic art. Mark Hachem exhibits prestigious artists of the Op Art movement, such as Vaserely, Jesus- Rafael Soto, and Cruz Diez. It is now the combination of Kinetic and Op Art with art using new technologies, and ultimately Eastern art, which represents the unique trait of the Galerie Mark Hachem.

The gallery takes part in prestigious contemporary art fairs around the world, such as: Beijing, Chicago, London, Paris, Maastricht, New York, Miami, Palm Beach, Shanghai, Moscow, Dubai, Singapore, New Delhi and Istanbul. With more than 200 exhibitions to his credit, Mark Hachem Gallery has acquired a robust international reputation for its dynamism and professionalism.

An ardent defender of contemporary art, Mark Hachem is also an adviser to public institutions and private collectors.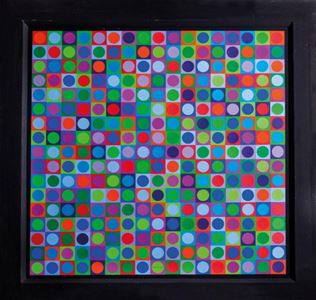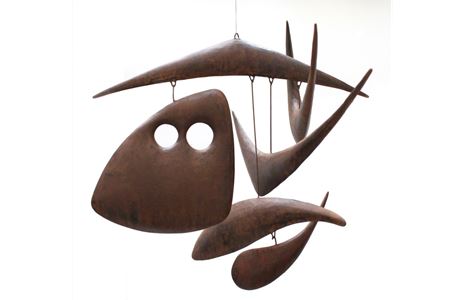 Philippe Hiquily Cheng Yi


About the Artist
More info
x
Victor Vasarely was a Hungarian-born French Op Art painter. He was best known as the "grandfather" of the Op Art movement of the 1960s. Vasarely was born in 1908 in Pecs, Hungary. He initially studied medicine, but soon abandoned the field to take up painting at the Podolini-Volkmann Academy.

Vasarely experimented with a number of different styles before finding his groove in Op Art. After moving to Paris in 1930, Vasarely became a successful graphic designer, systematically exploring the optical and emotional scope of different graphic techniques. This led to his discovery, in 1947, that geometric forms could evoke a sensory perception conveying new ideas of space, matter and energy. He developed his own geometric form of abstraction, which he varied to create different optical patterns with a kinetic effect. The artist made grids in which he arranged geometric forms and bright colors in such a way that the eye perceives a fluctuating movement. This was a major contribution to the development of Op Art.
certificate form Pierre Vasarely
More info
x
Philippe HIQUILY (1925-2013) is a singular French artist. A sculptor but also a furniture designer, HIQUILY has kept away from the art market and artistic movements. Free, hedonistic, he gives his works a spirit that is both dreamlike and surreal. The almost ubiquitous eroticism and the delicacy of his achievements contrast with the rawness of the recovery materials that serve as his basis.

HIQUILY joined the National Higher School of Fine Arts in Paris in 1953.

In the early 1960s he was spotted by the decorator Henri SAMUEL and quickly became an essential reference in the decoration industry. This lucrative activity allowed him to continue making sculptures.

From the 1980s, heavily influenced by the work of the American artist Alexander CALDER, he explored the question of mobility, balance and movement. By integrating electric motors into his works, he breathes a new dimension into the traditional design of sculpture.

His notoriety grew and his work was sealed in history and everyday life: the artist received public commissions (such as that of a 6-metre-high "Marathonian" for the city of Vitry-sur-Seine in 1981) and his work was represented in famous museums.