Evelyn Aimis Fine Art
Evelyn Aimis (Principal/Owner)
Yuki Tavera (Director)

About
Evelyn Aimis Fine Art has earned a worldwide reputation as an International Fine Art Dealers specializing in 20th Century Modern & Contemporary Art since 1973. Currently located in Toronto and Miami, they have owned and operated public and private galleries in Toronto, New York, and Boca Raton and have exhibited in international art fairs including Toronto, Paris, Madrid, Los Angeles, New York, Miami, Chicago, Palm Beach, and many others. They are known as trusted art advisors for both private and commercial art collections worldwide.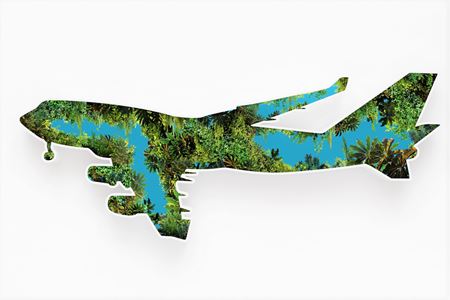 Doug Aitken "Jungle Plane" (2017)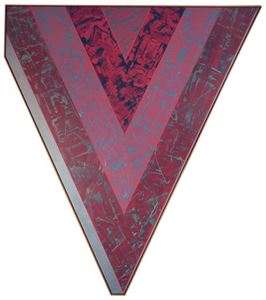 Kenneth Noland "Inscribe" (1984)
Exhibited:
Kenneth Noland: Major Works, R. H. Love Modern, Chicago, May 3- Jun. 21, 1986; traveled to The Butler Institute of American Art, Youngstown, OH, Jul. 20- Aug. 31, 1986; Hunter Museum of Art, Chattanooga, TN, Nov. 9, 1986 - Jan. 4, 1987; Loch Haven Art Museum, Orlando, Mar. 15- May 3, 1987

Literature:
Kenneth Noland: Major Works, R.H. Love Modern, Love, Richard H., Haase-Mumm Publishing, Chicago, 1986, color illus. p.31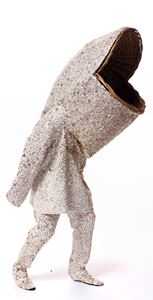 Nick Cave "Soundsuit" (2011)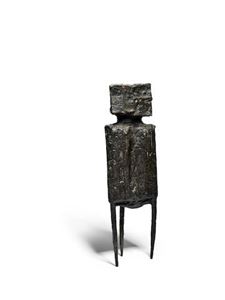 Lynn Chadwick "Part B of Maquette for Watchers, Version II" (1964)
Literature
P. Levine & N. Koster, Lynn Chadwick: The Sculptor and His World: The Artist and His Work, Leiden, 1988 (another cast illustrated p. 84). D. Farr & E. Chadwick, Lynn Chadwick Sculptor, with a Complete Illustrated Catalogue 1947-2003, Aldershot, 2014, no. 423 (another cast illustrated p. 217)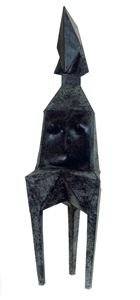 Lynn Chadwick "Standing Figure" (1981)
Literature
C75B, p. 386 "Lynn Chadwick - Sculptor" catalogue raisonee, Dennis Farr and Eva Chadwick, Lund Humphries, 2006

Christo Javacheff "Surrounded Islands, Biscayne Bay, Greater Miami, Florida" (1993)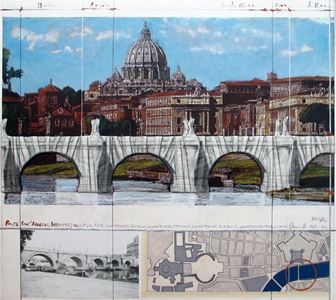 Christo Javacheff "The Ponte Sant'Angelo, Wrapped, Project for Rome" (2011)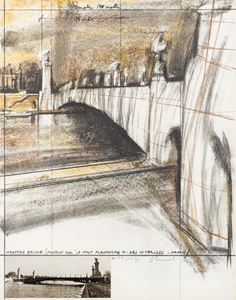 Christo Javacheff "Wrapped Bridge, Project for Pont Alexandre III, Paris" (1977)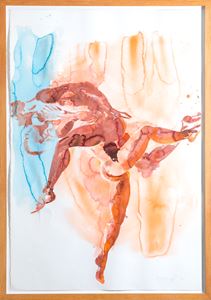 Eric Fischl "Untitled" (2001)

Robert Mangold "Frames and Ellipses A, B & C" (1989)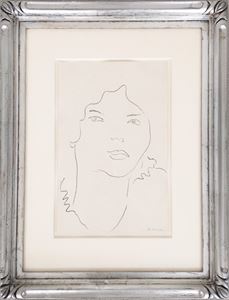 Henri Matisse "Portrait of Emma" (1916)
This drawing comes accompanied by a letter from the son of the artist, Pierre Matisse. The authenticity of this work has also kindly been confirmed by Mme. Wanda de Guébriant

Literature
Waldemar, George. Dessins de Henri-Matisse. Paris 1925. No. 24, illustrated n.p.

Note
During World War I, Matisse has no access to professional models. Led by his interest in music, Matisse took to making portraits of local musicians, including Juan Massia, a violinist, and Carlos Olivares, a cellist. The present work is one of a series of drawings of Emma Laforge, a Parisian violinist. Monotypes of this same sitter are in the collection of the Museum of Modern Art, New York.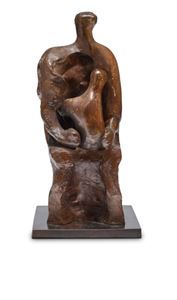 Henry Moore "Mother and Child: Chair" (1981)
Literature
A. Bowness, ed, Henry Moore: Complete Sculpture,1980-1986, London, 1988, vol. 6., p. 44, no. 840 (another cast illustrated)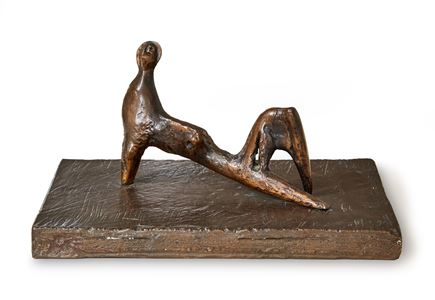 Henry Moore "Reclining Figure: Stiff Leg" (1977)
Literature
Henry Moore: Sculpture and Drawings, Vol. 5, edited by Alan Bowness, no. 721, page 34-35, Plate 123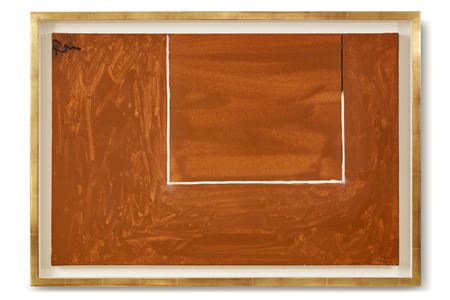 Robert Motherwell "Open Study in Tobacco Brown" (1971)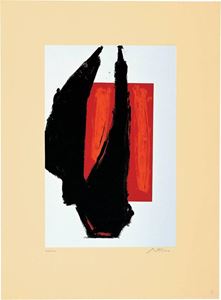 Robert Motherwell "Art 1981, Chicago Print" (1981)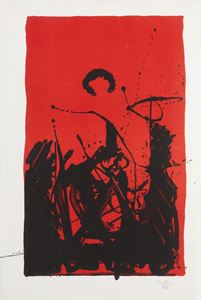 Robert Motherwell "Burning Sun" (1985)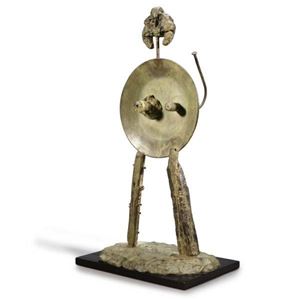 Joan Miró "Femme Chien" (1970)
Literature
Jacques Dupin, Miró escultor, Barcelona, 1973, illustration of another cast pp. 100-101
Alain Jouffroy & Joan Teixidor, Miró Sculptures, Paris, 1974, no. 155, illustration of another cast
p. 111, Fundació Joan Miró, Obra de Joan Miró. Pintura, escultura i sobreteixims a la collección
de la Fundació, Barcelona, 1979, no. 310, illustration of another cast p. 172
Emilio Fernandez Miró, Joan Miró, Sculptures. Catalogue raisonné 1928-1982, 2006, no. 179,
illustrations of another cast p. 181
Vik Muniz "Les Demoiselles d'Avignon, after Pablo Picasso, from Gordian Puzzles series" (2009)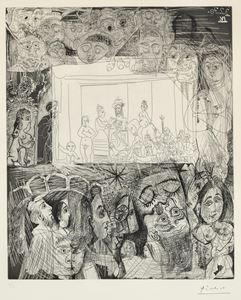 Pablo Picasso "Ecce Homo, after Rembrandt, from Series 156" (1970)
Robert Rauschenberg "Scheme" (1978)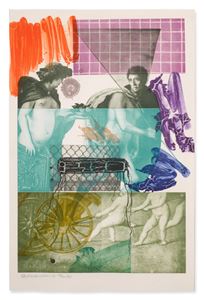 Robert Rauschenberg "Bellini No. V" (1989)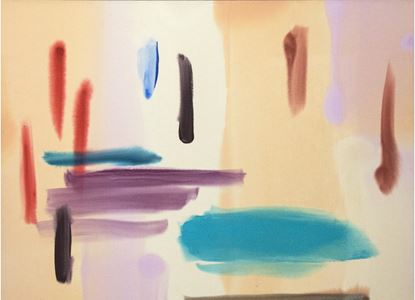 Milly Ristvedt "Beach Colours" (1988)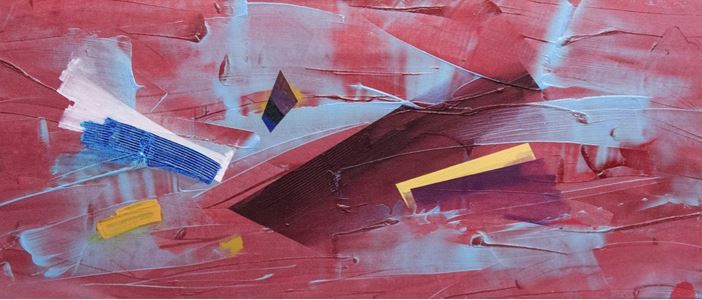 Milly Ristvedt Red Finish (1981)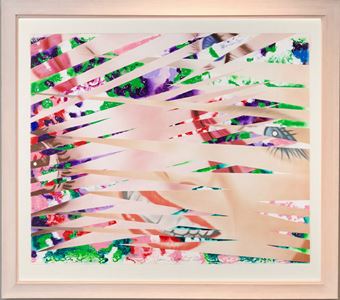 James Rosenquist "Crosshatch and Mutations" (1986)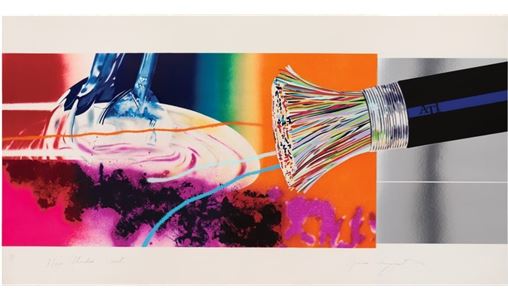 James Rosenquist "Horse Blinders (East)" (1972)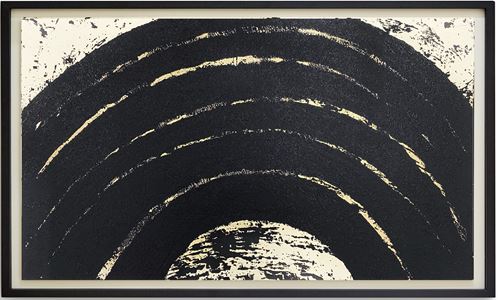 Richard Serra "Paths & Edges #4" (2007)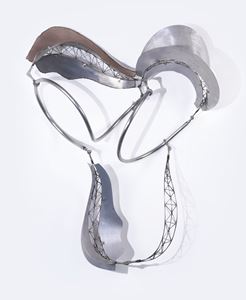 Frank Stella "Dadap" (2002)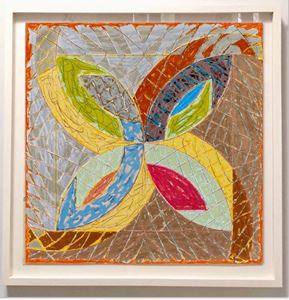 Frank Stella "Polar Coordinates III" (1980)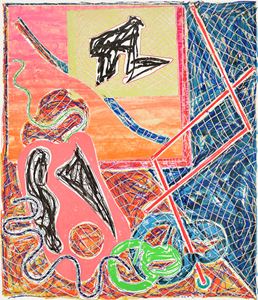 Frank Stella "Shards 1" (1982)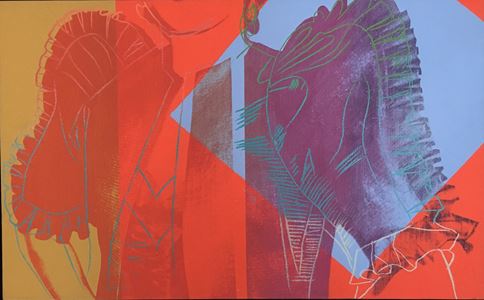 Andy Warhol "Fashion (Torso of Paola Dominguín with Frilled Jacket)" c. 1982-1983
Letter of Confirmation from Grace Marston (Gallery Educator at Warhol Museum, Pittsburg, PA 2017)

Two similar paintings in the Andy Warhol Museum Collection, Pittsburg, PA (same Series)

Similar painting in the Collection of Galerie Adriano Ribolzi of Monaco

Description
Paola Dominguín is a Spanish model, dancer, actress, and fashion designer. She is the daughter of the bullfighter Luis Miguel Dominguínand the Italian actress Lucia Bosè. Her brother is the singer Miguel Bose and Pablo Picasso is her godfather. In 1983, Andy Warhol collaborated with her brother Miguel Bose on several projects.
The blouse depicted was designed by Carolina Herrera in the 1970s, who was a close family friend of Andy Warhol. Herrera's company has been based in New York City since 1980. Carolina Herrera is well-known both for her dramatic style and particular attention to well-designed sleeves.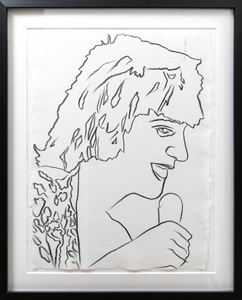 Andy Warhol "Rod Stewart" (c. 1978)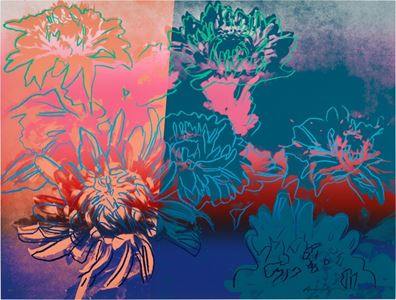 Andy Warhol "Kiku" (1983)