Aaron Galleries
Lynne Schillaci ()
Sarah Gray ()
Patrick Albano ()

About
For the past thirty-five years or more, Aaron Galleries has been offering fine 19th, 20th and now 21st Century American paintings and prints. Handling fine examples of art from renowned American Regionalists, Post-war Modernists, to Contemporary artists. Since the year 2000, their specialty has strongly expanded to African American works of art. Among the artists whose works are regularly featured are Beauford Delaney, Norman Lewis, Charles White, Rashid Johnson, Suzanne Jackson, Hubert Neal Jr. and more.

Aaron Galleries is the most inclusive African American fine art gallery in the Midwestern United States.

Günther Förg Untitled
"Untitled", 1987 Complete set of 12, 10 x 6 1/2 inches each Signed, dated, and numbered (1-12) Framed and matted with Optium plexi-glass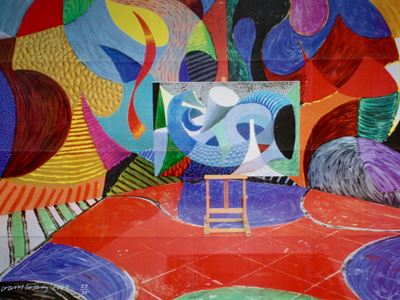 David Hockney Painted Environment III
"Painted Environment III", 1993 27 1/2 x 36 3/4 inches, Laser print in colors on 16 sheets of wove paper Signed lower left; Edition: 25/25 Framed with Optium plexi-glass


About the Artist
More info
x
German abstract artist who has produced a variety of mediums such as paintings, sculpture, printmaking, and photography. Throughout his lifetime, Förg explored his fascination with Modernsim with these diverse mediums. His work in is permanent collections of MOMA and The San Francisco Museum of Art, and more.
Norway Private Collection