Pietro Campagnoli (Turin, IT 1994 -)
---
About
Pietro Campagnoli has got the Asperger Syndrome, a form of autism that gave him a high I.Q. but bad relationship skills. At High School he always had problems in understanding the thoughts of his classmates and how to relate with them. With his sculptures he creates casts with blankets, wet with gypsum, placing them on living bodies and waiting for them to solidify. In these casts he tries to reproduce the shape of the human being, like a photograph of the bodies. His works never have definite faces, because it is impossible for him to understand people's emotions, due to his syndrome. They are always empty, because the internal body has evolved and disappeared, and the "envelope" remains, like a chrysalis.
Pietro's work is born by the attempt to describe metaphorically his past. The most violent experiences make us the most resilient individuals His artworks remind him that the storm can be fought and defeat, if an unwavering willpower supports your mind against the lashes of sensitive experiences.

Pietro is born in Turin in 1994, where he lives and works. He started working as a professional in 2011, under institutional patronages of primary importance such as: Regione Piemonte, Fondazione CRT Cassa di Risparmio di Torino, Compagnia di San Paolo, Opera Barolo, Dipartimento Educazione del Castello di Rivoli, Dipartimento Educazione Fondazione Merz, Fondazione Pistoletto, Centro Studi Bianca Tosatti Parma.
Exhibition
2020
"Art 4 resistance" Civic Gallery Filippo Scroppo, Torre Pellice, Torino, IT

2019
'Altrove', 11 [HH] Art Gallery, Roma (IT)
"Mutatio Tempore" Solo Show Weber & Weber Gallery, Torino
"Passione Bipolare" Fondazione Bevilacqua La Masa – Palazzetto Tito
"Artrooms Awards" Le Dame Art Gallery, London
"Artrooms Roma" Guest Artist by 11Hellheaven, The Church Palace, Roma
"Primo Premio Luciano Bolis", Collective Show, Palazzo Ducale, Genova
"Modern | Post-Modern. Designing a new world", 11HellHeaven,
Roma, exposed with: F. Bacon, A. Modigliani, G. Severini, G. Balla, F. Depero, M.Pucciarelli, R. Barisani, A. Jorn, U. Attardi
"Artrooms Fair London", Melia White House, London, UK

2018
"Festival nazionale dello sviluppo sostenibile 2018" Pinacoteca Albertina di Belle Arti, Torino
"Arteam Cup: mostra finale" Fondazione Dino Zoli, Forlì
"ArtRooms Seul", Hotel Riviera Cheongdam, Seoul (South Korea)
"London Art Fair" special project by Areacreativa42 Gallery, Londra

2017
"Teufelsberg Reload" Street Art Limited Gallery, Berna
"Fuoriserie". Collettiva curata da D. Rosi e T. Taramino, Palazzo Barolo, Torino
"Stilbruch festival" Dots Gallery, Teufelsberg, Berlino
KBArtGallery, collettiva, Torino
"Bring Your Own Device II", a cura di D. Anni, Ualuba Digital Art Gallery, Brescia
"Open residence selected artist", Trestle Gallery, Brooklyn, New York
"Animale_" Workshop Merz, Laboratorio "La Galleria", Torino
"Io che osservo il divenire a Torino", Galleria Spaziobianco/Officina 500, Torino

2016
"Complementi di luogo" collettiva, Palazzo Barolo, Torino
"Bring your own device" collettiva, CAMERA (Centro Italiano Fotografia), Torino
"I fantasmi dello Spettro", InGenio e Palazzo Falletti di Barolo, Torino

2014
"Trailer" collettiva, Mai Visti E Altre Storie e Arteco, patrocinato dalla Fondazione Pistoletto, Rebirth Day, galleria InGenio, Torino

Awards

2019 – "Primo Premio Luciano Bolis", Palazzo Ducale, Genova
2018 – Finalista "Arteam Cup", Forlì
2017 – Finalista "Premio Nocivelli", sezione scultura
2017 – Vincitore under 30 "Premio città di Torino" per "CBM Art Prize 2017"
Work Selection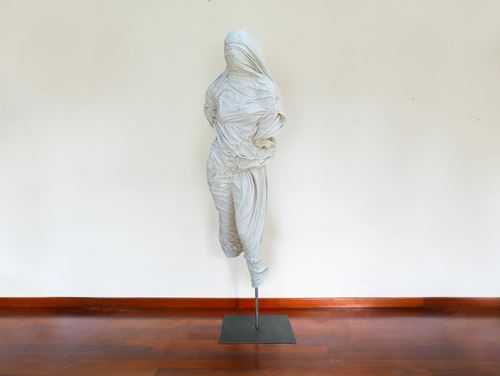 Nike