John Procario
---
About
Todd Merrill Studio has represented artist John Procario since 2016. Having grown up around his carpenter father's workshop, Procario entered the world of art and design with a well defined love of woodworking and a distinct vision inspired by his reverence for the material's possibilities and limitations. Starting with his Freeform Series, and later translating and taking inspiration from this series to develop new works, Procario has continued to produce elegant, contemporary, and minimalistic designs that capture its audiences emotionally through sensation and observation.


While studying sculpture in graduate school, Procario developed a unique aesthetic that began with the notion of wood as metaphor for the human body. "I would describe my work as having a heartbeat," says Procario. "Each one has so much personality. As you move around them, the forms appear to shift and change. Just as we push the limits of our bones and muscles, I enjoy pushing the limits of wood to create a sense of strain in the material's gesture," Procario further elaborates. By pushing the limit of breakage, Procario creates a sense of strain in the otherwise fluid gestures of his works. Conceptually, this reveals beauty to be the product of stress.


This evocation of the human form found throughout his Freeform Series can also be found in his recent furniture pieces, where he continues to transcend the material's inherent confines. With only a rough sketch in his mind, he bends the wood into one of his signature undulating shapes. While developing his technique, Procario spent months intentionally "breaking" wood to gain a deep understanding of its structure, learning where to draw the line before hitting that breaking point. The process is a delicate one. "Wood doesn't always want to work with you when you are freeform bending so you have to work with it," he says. "But I really enjoy that. Sometimes it takes you in new directions that would never have happened if everything was planned out." In this way, the artistic process becomes a collaboration between the artist and the wood's respective personalities. The outcome is an organic, fluid design balanced with a sense of motion.


Procario has further explored these curvilinear forms in his other pieces such as his Crevasse Series, where he has found inspiration in topography and its twisting forms reminiscent of roads. Furthermore, Procario's Basin Series achieves emotional resonance through an equally masterful manipulation of wood, leading to the effect of drawing the viewer in.


A growing list of high-end designers have begun including Procario's large-scale commissions in both commercial and residential projects such as a monumental work installed in the lobby of the Kaufman Organization's Nelson Tower at 450 7th Avenue, in New York City. "These pieces use the same language," says Procario. "But more space gives me more opportunity to play with the shapes."


Procario's works have been featured in the New York Times, Architectural Digest, Design Milk, Interior Design Magazine, and Luxe Magazine. In the summer of 2018, Procario was invited to produce a unique work for a multi-artist installation at Philip Johnson's Glass House.

As Procario works on a commission basis, custom designs may be requested.
Work Selection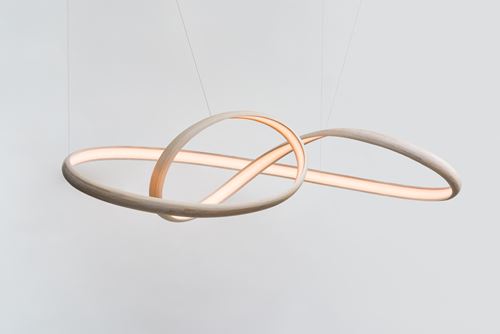 Freeform Series Light Sculpture XXII, USA, 2021