Molly Hatch
---
About
Molly Hatch's ceramic wall installations may best represent the "grey space" between fine art, contemporary design, and craft that has become de rigueur for museum collections and modern collectors. Using ceramic surfaces as both her canvas and subject matter, she appropriates and re-contextualizes historic pattern and imagery across compositions of hand-painted earthenware plates, the glazed surfaces of the plates collectively become a fragmented canvas for her delicate, painterly re-renderings.

Though the components of her works are, in effect, technically functional, they are ultimately not intended for use, but installed to be observed and studied. A set of formal and fine dinnerware is an anomaly to younger generations, having little or no importance to the relaxed and multicultural way that we now live our daily lives. What many museums hold in their archives can be hard for the public to appreciate.

Hatch has in effect "reset the table," by breaking the patterns of tradition and skewing the dinner services of old. She transforms and deconstructs what was once everyday and craft-based, helping us look at formality, history, and class through a contemporary perspective. Her process involves enlarging familiar patterns and motifs from traditional ceramics, textiles, fine art painting, and illustration, digitally igniting them in color, scale, and composition to create a new hybrid pattern. The precise balance of old and new opens a space to acknowledge our evolution in the 21st century in relation to aesthetics and ritual.

In the past decade, Hatch has become synonymous with contemporary ceramics, continuing her exploration of these methods and themes by applying them across an ever-evolving catalog of forms – plates, cubic vases with negative space imagery, pyramid forms that become three dimensional ceramic lenticulars. Her work has exhibited both nationally and internationally garnering her a loyal and fervent following.

Hatch grew up on an organic dairy farm in Vermont surrounded by a startlingly diverse set of visual influences: the earthy reality of rural life, and the mysterious luxury of antique decorative objects in her family's collection. Her mother's family, prosperous Boston merchants, used Chinese export porcelain as ballast in their ships. Inspired by these two seemingly disparate family narratives, Hatch became an artist with a life-long passion for the decorative arts and the dialog between old and new.

In 2013 Hatch had a solo museum exhibition at the Philadelphia Art Alliance and was included in "New Blue and White," a contemporary decorative arts exhibition at the Museum of Fine Arts in Boston.

Physic Garden, a monumental site-specific 456-plate work, was installed in the entryway of the High Museum of Art in Atlanta in 2014. The work was commissioned by the museum and used two ca.1755 Chelsea Porcelain Factory plates from the museums Frances and Emory Cocke Collection of English Ceramics as inspiration for its floral motif. Another commission, Caughly Landscape, was installed at the Woodruff Arts Center in Atlanta.

In 2017 Hatch installed her largest museum commission to date, titled Repertoire, in the historic Engelhard Court at the Newark Museum of Art in Newark, New Jersey. Honoring the museum's 107-year-tradition of collecting contemporary ceramic art, and commemorating the retirement of Curator of Decorative Arts Ulysses Dietz after 37 years, the three parts of the installation were inspired by global textiles in the Museum's collection. The western panel, "Dyula Woven," is based on a rare early-twentieth-century Dyula textile from Cote d'Ivoire, collected by the Museum's founder, John Cotton Dana, in 1928. The central panel, "Qianlong Silk," is based on a velvet throne carpet made in eighteenth-century China. The eastern niche will be filled with "Bergen Jacquard," designed after a jacquard-woven blue and white coverlet made in Bergen County, New Jersey in the 1840s. Repertoire combines the iconography of the two great global art-forms of human creativity: clay and cloth.

In 2022, Hatch took part in Making Place Matter, a three person exhibition, symposium, and publication inaugurating the new building of Philadelphia's The Clay Studio, made possible by a grant from the Pew Center for Arts and Heritage. Hatch created a new body of work for the exhibition centered around the concept of "Making Place Matter" through a pattern exploration of her personal heritage.
Work Selection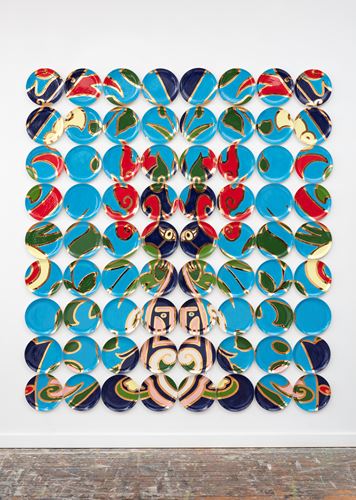 Ducere, 2023