Mr.Brainwash (France 1966 -)
---
About
Born in 1966 in Garges-les-Gonesse, France, Thierry Guetta, professionally known as Mr. Brainwash, moved to Los Angeles with his family when he was 15 after his mother passed away. Guetta owned a vintage clothing store in Los Angeles and occupied himself as an amateur videographer. He was constantly filming his life and those around him, amassing hours of footage. While visiting Paris, he came upon the secret identity of his cousin – the street artist Space Invader. During the remainder of the visit, Guetta followed Invader around and filmed him creating his street art. He quickly became fascinated with the clandestine art process and sought another subject when he returned to the States.

This led him to Shepard Fairey, a famous street artist in the United States. Guetta followed Fairey around for 10 months, taping his clandestine creations. Around this time Guetta was also taking film of many other street artists. It was soon after that Guetta met Banksy, infamous across the world for his provocative street art. Banksy allowed him to film with the caveat that his identity would be shrouded from the public. After taking thousands of hours of video of these street artists, Guetta edited them into a film. After watching the film, Banksy coopted the footage, telling Guetta that maybe he should try his hand at street art instead. He never knew how literally Guetta would take him.

Almost overnight, Guetta adopted the personality of Mr. Brainwash (MBW). Quickly, the new story became about Mr. Brainwash's swift rise to notoriety as he attempted to pull off his debut exhibit Life in Beautiful in Los Angeles in 2008. This was the subject of the Banksy film Exit Through the Gift Shop. Though some were skeptical, the show came together and was enormously successful. The two-week show was extended for three months, and Mr. Brainwash made a name for himself in the street art world. Soon, commissions were rolling in. and in 2009, he designed the cover for Madonna's Celebration album. Since, he has had many more successful shows, including pop-ups at Art Basel Miami and in New York City.

Mr. Brainwash's art is a combination of pop imagery and contemporary cultural icons, leading to a pop graffiti street art aesthetic. Mr. Brainwash currently lives and works in Los Angeles.
Work Selection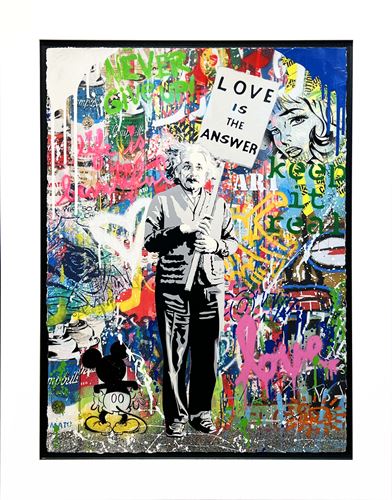 Einstein