Camilla Ancilotto (Roma, IT 1970 -)
---
About
Camilla Ancilotto (1970) was born in Rome where she
currently lives and works. Her modular polychrome
works are inspired by the Tangram, the ancient
Chinese puzzle.
The South East of Florida has already granted her
notoriety and recognition. Her monumental work
'Original Sin' is currently a permanent fixture at the
Wolfson Campus sculpture collection in Miami Dade
College.
Her cycle 'Ab Ovo' garnered special attention at the
internationally renowned Spoleto Festival dei Due
Mondi (2017), at Manifesta 12 in Palermo (2018), at the
Milan Design Week (2019) in the prestigious Mandarin
Oriental Hotel.
In 2021, her works were featured at the National
Archaeological Museum of Naples and the Italian
Institute of Culture in Brussels. In November, the
grandiose Ab Ovo polichrome was unveiled at the
first edition of the International Contemporary &
Modern Art Fair Roma "Arte in Nuvola".
2021 is also a stand-out year for two other important
sculptures in polished reflective steel that found
permanent homes at the prestigious National
Museum of Ravenna (Hall of Contemporary Art) and
Banca Patrimoni Sella's Modern & Contemporary Art
private collection.
Exhibition
Personal Exhibitions
2017 Mutaforma - Palazzo Corricola Arti Visive, Spoleto (PG)
View catalogue
2012 In Fieri - Camera Dei Deputati, Complesso di Vicolo Valdina, Roma
Download catalogue
2012 Original Sin - Freedom Tower Museum - Miami Dade College, Miami
2011 Original Sin - Ca' d'Oro Art Gallery, Miami
2010 Metamorfosi - Chiostro del Bramante, Roma
2008 Galleria d'Arte Davico - Torino
2003 Dipinti recenti - Galleria Cà d'Oro, Roma
Collective Exhibitions
2020 Museo Carlo Bilotti - Roma
2019 Premio Sulmona - Museo Civico Diocesano, Sulmona
2019 MACRO ASILO - Museo di Arte Contemporanea, Roma
2019 Castel dell'Ovo - Napoli
2019 Museo del Giocattolo - Zagarolo
2019 LA Art Show - The Culver Hotel, Los Angeles
2018 Premio Sulmona - Museo Civico Diocesano, Sulmona
2018 Unforgettable Childhood - Museo Nazionale di Ravenna
2018 Oasi - Chiesa di Sant Agostino, Pinerolo
2018 Villa Malfitano Whitaker (MANIFESTA 2018) - Palermo 2018 Art Rooms Fair International contest, Roma
2017 Io Sono Qui - Museo MACRO Testaccio, Roma
2017 Esposizione Triennale di Arti Visive a Roma - Complesso Monumentale del Vittoriano, Roma
2016 Era perduto ed è stato ritrovato - Museo del Tesoro del Duomo di Vigevano, Vigevano (PV)
2016 In Arte Belzebù - Complesso dei Dioscuri al Quirinale, Roma
2015 Amsterdam International Art Fair - Amsterdam
2015 Expo Arte Italiana - Villa Bagatti Valsecchi Varedo, Milano
2014 'Ad Artem' - Museo Fondazione Venanzo Crocetti, Roma
2013 Art Basel - Miami
2013 Esposizione Internazionale d'Arte - la Biennale di Venezia
Download catalogue
2012 Marilyn Monroe. Tribute to a Female Icon - Galleria Ca' d'Oro, Miami
2011 Art Basel - Miami
2011 Biennale di Scultura - Roma
2009 Scomposizioni - Palazzo Torlonia, Galleria Ca' d'Oro, Roma
2008 Omaggio a De Chirico - Palazzo Torlonia, Galleria Ca' d'Oro, Roma
2008 Donne D'Arte. Freedom - Galleria Cortese & Lisanti, Roma
2007 Roma visioni di una Capitale - Galleria Cortese & Lisanti, Roma
2007 Per Bacco - Palazzo Antinori, Firenze
2006 Bestiario - Galleria Cà d'Oro, Roma
2006 Omaggio a Rembrandt 1606/2006 - Galleria Cà d'Oro, Roma
2006 Donne D'Arte. Pittura a Roma da Antonietta Raphaël Mafai a Giosetta Fioroni - Galleria Cortese & Lisanti, Roma
2006 Zodiaco - Galleria Davico, Torino
2005 Primaverile Romana, A.R.G.A.M. - Galleria Cà d'Oro, Roma
2004 Triennale giovani artisti - Vercelli
2003 Premio Nazionale di Pittura "Città di Fondi"
2003 Sotto/Sopra, Primaverile Romana, A.R.G.A.M. - Galleria Cà d'Oro, Roma
2002 RipArte International Art Fair - Ripa Hotel, Roma
2002 La mia idea di campagna romana e laziale - Castello Baronale, Fondi (LT)
2000 Studio 4 West - New York
2000 Atmosphere Gallery - New York
1998 Atmosphere Gallery - New York
Work Selection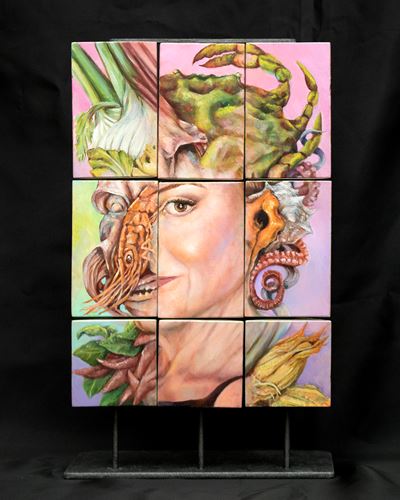 Self Portrait with still life
Marilyn Passion Fruit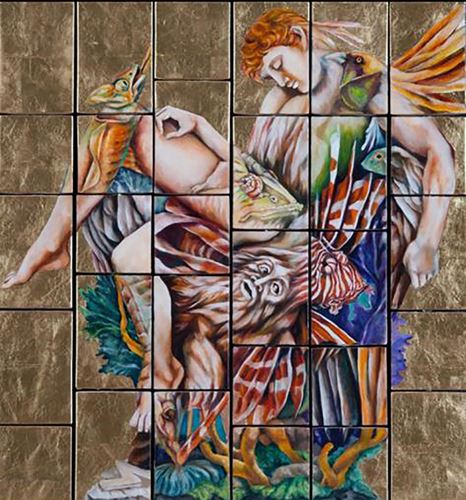 Untitled, cm 100x100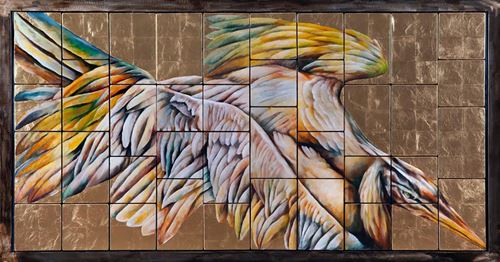 Untitled, cm 120x90