Kira Nam Greene
---
About
Born in Seoul, Korea, Kira Nam Greene lives and works in Brooklyn, NY. She received her BFA from San Francisco Art Institute, her MFA from School of Visual Arts and her BA in International Relations from Seoul National University. Prior to becoming an artist, Greene earned her Ph. D in Political Science from Stanford University, specializing in Political Economy in East Asia, and taught wide variety of subject matters in Political Economy both in academic and business settings.
Greene has shown her work widely at venues such as Sheldon Museum of Art, Muskegon Museum of Art, Brown University, Salisbury University, Wave Hill, Bronx Museum of Art, Noyes Museum, Accola Griefen Gallery, Lodge Gallery, Kiechel Fine Art, A.I.R. Gallery, Lyons Wier Gallery and Jane Lombard Gallery. Her work has been covered in publications such as Artnet News, Art F City, Wallpaper, W Magazine, Lincoln Star Journal, Art21 Blog, Hyphen Magazine, The Korea Daily and New York Art Beat. In 2019, Greene was a finalist for the inaugural Bennett Prize. Greene was a Stewart MacMillan Chair in Painting at Maryland Institute College of Art, Baltimore, MD in 2017-18 and is currently a part-time faculty at the Fine Arts MFA Program at Parsons School of Design.
Work Selection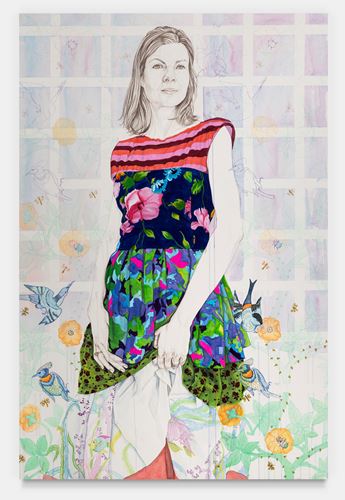 English Garden (Roya), 2020 Watercolor, gouache and colored pencil on paper mounted on panel 45x30 in.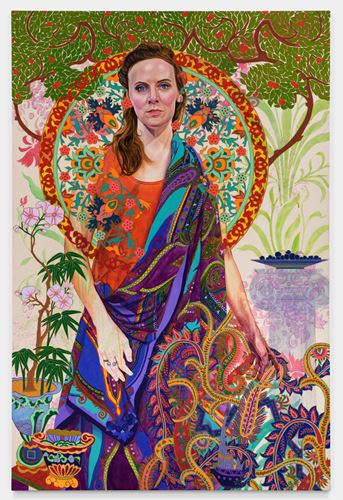 Diva's Pergola (Rebecca), 2019 Oil, gouache, colored pencil and acrylic on canvas 50x40 in.