John Van Alstine (Gloversville, NY 1952 -)
---
About
ABOUT JOHN VAN ALSTINE

Born in upstate New York in 1952, John Van Alstine grew up in the southern Adirondack Mountains. After attending St. Lawrence University, Kent State University (BFA 1974) and Cornell University (MFA 1976), he joined the faculty at the University of Wyoming, Laramie, and later the University of Maryland, College Park, to teach drawing and sculpture.

In 1986 he left teaching and moved to the New York area to pursue studio work full-time. In 1987 he purchased a 19th century industrial complex on the banks of the Sacandaga River and returned to the Adirondacks where he now lives and works in the restored historic structure.

Van Alstine's work is held in many private and public and corporate collections in the United States and Europe. He has completed many large scale outdoor, site-specific commissions.



ARTIST STATEMENT

The union of stone and metal—recently rough-hewn New York slate and found object steel—are central in my sculpture. On its most basic level, the work is about the marriage of the natural with the human-made.

Stone is used as an assemblage element in the way a welder uses steel, rather than in the traditional manner of subtraction. In contrast to the timelessness of stone, the found-object steel is very time-specific—20th century industrial. The industrial and structural characteristics inherent in the metal are often employed in the work and used to physically connect or suspend stone elements. The strength of the metal allows for a "choreographing" or "floating" of typically earthbound stone.

The Sisyphean Circle Series is an attempt to draw parallels between the Greek mythological character and the plight of the artist. As we all know, Sisyphus was forced to roll a large stone up a steep hill, only to have it tumble back after reaching the top. A toil that lasts an eternity is an applicable metaphor for the creative process—especially for a stone sculptor, on both a physical and symbolic level. I am constantly pushing stone around the studio, striving to reach a creative "peak", and once there, start over on the next piece. The process is neverending.

Albert Camus, the French existentialist, in his essay The Myth of Sisyphus, used this myth to illustrat his notion that reaching one's final destination is not of utmost importance. In fact, if one "reconsiders Sisyphus", as Camus suggests, the struggle or journey reveals itself as, ultimately, the most meaningful—an idea that I, and many others, believe is central to the creative process.
Exhibition
SELECTED SOLO EXHIBITIONS

2021 Tipping the Balance: Contemporary Sculpture by John Van Alstine, Chesterwood Nation Historic Trust, Stockbridge, MA
2021 Reflecting on 2020: New Sculpture by John Van Alstine, Hyde Collection Mus, Glens Falls, NY
2017 Rolly Michaux Gallery, Boston
2015 Laffer Gallery, Schuylerville, NY
2012 John Van Alstine: Arrested Motion/Perilous Balance, Opalka Gallery, Sage College, Albany, NY
2011 John Davis Gallery, Hudson, NY
2008 C. Grimaldis Gallery, Baltimore, MD
2008 Gerald Peters Gallery, Santa Fe, NM
2006 Nohra Haime Gallery, New York
2004 Nohra Haime Gallery, New York
2009 John Davis Gallery, Hudson, NY
2007 John Davis Gallery, Hudson, NY
2006 John Davis Gallery, Hudson, NY
2002 Bushlenmowatt Gallery, Palm Desert, CA
2001 Bannister Gallery, Rhode Island College
2000 C. Grimaldis Gallery, Baltimore, MD
2000 Nohra Haime Gallery, New York
1999 Confluence, Hyde Collection Art Museum, Glens Falls, NY
1999 Wood Street Gallery and Sculpture Garden, Chicago
1999 C. Grimaldis Gallery, Baltimore, MD
1998 Acknowledging the Figure, State University of New York, Plattsburgh, NY
1988 Nohra Haime Gallery, New York
1996 Vessels and Voyages, DeCordova Museum, Lincoln, MA
1997 C. Grimaldis Gallery, Baltimore, MD
1997 Kendall Campus Art Gallery, Miami-Dade Community College
1995 Studio Art Exhibition Program, Dartmouth College
1995 C. Grimaldis Gallery, Baltimore, MD
1996 Nohra Haime Gallery, New York
1994 Paul Creative Arts Center, University of New Hampshire, Durham, NH
1994 Nohra Haime Gallery, New York
1994 Troyer-Fitzpatrick-Lassman Gallery, Washington, DC
1994 Ohio State University, Cleveland, OH
1993 Sun Valley Center for the Arts, Sun Valley, ID
1992 C. Grimaldis Gallery, Baltimore, MD
1991 Nohra Haime Gallery, New York
1991 Sonsbeek International Art Gallery, Arnhem, Netherlands
1991 Documents, National Academy of Sciences, Washington, DC
1991 Gerald Peters Gallery, Santa Fe, NM
1991 New Jersey Artist Series, Morris Museum, Morristown, NJ
1990 Nohra Haime Gallery, New York
1990 New Work/Raw Space, Franz Bader Gallery, Washington, DC
1989 Gerald Peters Gallery, Santa Fe, NM
1988 Jersey City Museum, Jersey City, NJ
1988 Nohra Haime Gallery, New York
1988 C. Grimaldis Gallery, Baltimore, MD
1988 George Ciscle Gallery, Baltimore, MD
1987 Phillips Collection, Washington, DC
1986 George Ciscle Gallery, Baltimore, MD
1986 Brush Gallery, St. Lawrence University, Canton, NY
1984 C. Grimaldis Gallery, Baltimore, MD
1984 Diane Brown Gallery, New York
1987 Osuna Gallery, Washington, DC
1983 Osuna Gallery, Washington, DC
1981 Osuna Gallery, Washington, DC
1980 Henri Gallery, Washington, DC
1980 University of Colorado, Boulder, CO
1979 Neill Gallery, New York
1978 The West Broadway Gallery, New York
1978 University of Colorado, Ft. Collins, CO
1977 Northern Arizona State University, Flagstaff, AZ



SELECTED GROUP EXHIBITIONS

2018 40th Anniversary Contemporary Sculpture, Chesterwood Gardens, Stockbridge, MA
2017 Cartography and Choreography, Laffer Gallery, Schuylerville, NY
2015 SOFA Art Fair, C Fine Art, Navy Pier, Chicago
2015 The Lightness of Being; Abstracts, Allyn Gallup Gallery, Sarasota, FL
2014 Summer '14, C. Grimaldis Gallery, Baltimore, MD
2014 Response, James Gallery, Pittsburgh, PA
2013 Sculpture at Nohra Haime, Nohra Haime Gallery, New York
2013 Summer '13, C. Grimaldis Gallery, Baltimore, MD
2013 Chesterwood Contemporary Sculpture, Daniel Chester French Residence, Stockbridge, MA
2013 ArtHamptons, C Fine Art, Bridgehampton, NY
2011 Confluence of Opposites - John Van Alstine & Caroline Ramersdorfer, C. Grimaldis Gallery, Baltimore, MD
2011 Houston Fine Arts Fair, C. Grimaldis Gallery, Houston, TX
2010 Gallery Salwa Zeidan, Abu Dhabi
2010 Abu Dhabi Art Fair 2010, Emirates Palace, UAE
2010 Tsinghua University, Beijing, China - Centennial Sculpture Exhibition
2008 Beijing Olympic Park Exhibition, Beijing
2007 Confluence of Opposites - John Van Alstine & Caroline Ramersdorfer, Lake Placid Center for the Arts, Lake Placid, NY
2007 Sculpture: Caro, Iserwood, Ruppert, Van Alstine, C. Grimaldis Gallery, Baltimore, MD
2007 Sculpture from Calder to Bolla, Nohra Haime Gallery, New York
2007 John Davis Gallery, Hudson, NY
2006 Project 2006, Pittsburgh Society of Sculptors & The Three Rivers Arts Festival
2005 Exposition Transfer, Gallery Prisma, Südtiroler Künstlerbund Bolzano, Südtirol
2005 Re-presenting Representation VII, Arnot Museum, Elmira, NY
2005 Gerald Peters Gallery, Santa Fe, NM
2004 Grounds for Sculpture, Hamilton, NJ
2004 Sculpture in the Park, Rockland Center for the Arts, West Nyack, NY
2004 Summer '04, C. Grimaldis Gallery, Baltimore, MD
2003 9-19-03, John Van Alstine & Chuck Olson, James Gallery, Pittsburgh, PA
2003 Sculpture Internationale 2003, Cobb Galleria Center, Atlanta, GA
2002 From Nature, AVC Contemporary Art Gallery, New York
2002 From Stone to Foam, Nohra Haime Gallery, New York
2002 Bushlenmowatt Gallery, Palm Desert, CA
2001 Earthline / Landscape, The Gallery of South Orange, NJ
2001 Grounds for Sculpture, Spring Invitational Exhibition, Hamilton, NJ
2000 International Sculpture Center - Collection III, Robert McClain & Co Gallery, Houston, TX
2000 Birth, 57 N Street Fine Arts Gallery, Washington, DC
1999 Into Balance, Outdoor sculpture exhibition, Washington, DC
1999 History and Highlights: The Art Gallery's Collection, University of New Hampshire, Durham, NH
1999 Indoor/Outdoor Sculpture, Nohra Haime Gallery, New York
1999 Portals, Outdoor public sculpture exhibition, Washington, DC
1999 Pierwalk 99, International outdoor sculpture exhibition, Chicago
1999 Equilibrium of the Senses, Nohra Haime Gallery, New York
1999 10 by 10, Addision / Ripley Gallery, Washington, DC
1999 Small Sculpture, Grimaldis Gallery, Baltimore, MD
1998 New Stone and Steel Sculpture, Annmarie Gardens, Solomons, MD
1998 Summer '98, Grimaldis Gallery, Baltimore, MD
1998 Pierwalk 98, International Outdoor Sculpture Exhibition, Chicago
1997 The Hirshhorn Collects: Recent Acquisitions 1993-96, Hirshhorn Museum, Washington, DC
1997 Drawings", Nohra Haime Gallery, FIAC, Paris
1997 From the Ground UP, Socrates Sculpture Park, New York
1997 Pierwalk '97, Chicago
1997 Tool as Art II, Exploring Metaphor, The Hechinger Collection, Smithsonian Institution, Washington, DC
1997 Works on Paper, Nohra Haime Gallery, New York
1997 Inaugural Exhibition-Sculpture Terrace, Plattsburgh Museum, State University of New York
1996 Sculpture, Nohra Haime Gallery, FIAC, Paris
1996 C3, Cerrillos Cultural Center, Cerrillos, NM
1996 Part I-The Sculptors, Summer '96, C. Grimaldis Gallery, Baltimore, MD
1995 The Creative Process: Drawings by Sculptors, NJ Center for the Visual Arts
1995 Metamorphosis: Contemporary Sculpture at Tudor Place, International Sculpture Center, Washington, DC
1995 Recent Acquisitions, Phillips Collection, Washington, DC
1995 SEMAPHORE: Placing the Mark, Art Initiatives /NYC, New York
1994 2nd Fujisankei Biennale, Ninotaira, Hakone Open-Air Museum, Japan
1993 Contemporary Sculpture, Nohra Haime Gallery, New York, New York
1993 Sculptor's Drawings, C. Grimaldis Gallery, Baltimore, MD
1992 Five Years of Accessions, Art Collection of the National Reserve Board, Washington, DC
1992 Vara, Mutal, Van Alstine, Nohra Haime Gallery, New York
1992 10th Anniversary Exhibit, Nohra Haime Gallery, New York
1991 Caro, Kendrick, Ruppert, Van Alstine, C. Grimaldis Gallery, Baltimore MD
1991 Sculptors on Paper, Congress Square Gallery, Portland, ME
1991 Object/Context: A National Invitational, Indiana University Museum, Indiana University of Pennsylvania, Indiana, PA
1991 Ruppert/Van Alstine, C. Grimaldis Gallery, Baltimore MD
1991 Selections, Nohra Haime Gallery, New York
1990 Washington Artists: Those Who Left, Those Who Stayed, Franz Bader Gallery, Washington, DC
1990 Sculpture of the Americas into the 90's, Museum of Modern Art of Latin America, Organization of American States, Washington, DC
1990 Voyages of the Modern Imagination: The Boat in 20th Century Art, Farnsworth Museum, Rockland, ME
1990 The Boat Show, Portland Museum of Art, Portland, ME
1990 Salon de mars, Nohra Haime Gallery, New York
1989 Selections, Nohra Haime Gallery, New York
1989 Sculpture Invitational: John Van Alstine and David Maxim, Indiana University of Pennsylvania, Indiana, PA
1988 Blues and Other Summer Delights, Nohra Haime Gallery, New York
1988 About Seascape, Frick Gallery, Belfast, ME
1988 Small Sculpture, Nohra Haime Gallery, New York
1987 Artists Fellowship Exhibition, New Jersey Arts Council, Morris Museum, Morristown, NJ
1987 Watercolors Plus, Nohra Haime Gallery, New York
1987 Inaugural Exhibition, Nohra Haime Gallery, New York
1987 Los Gringos, Sible Larney Gallery, Chicago
1985 New Jersey Artists Biennial, Newark Museum, Newark, NJ
1985 Drawings By Sculptors, Diane Brown Gallery, New York
1985 Discoveries and Disclosures, George Ciscle Gallery, Baltimore, MD
1984 Timely Objects, Inaugural Exhibition, Diane Brown Gallery, New York
1983 International Arts Council Exhibit, Sarah Lawrence College, Bronxville, NY
1983 Baltimore Sculpture Works in Public Sites, Baltimore, MD
1983 Colby-Sawyer College National Invitational, Colby-Sawyer College Gallery, London, NH
1983 Flatworks: Non 3-D works by Sculptors, Washington Project for the Arts, Washington, DC
1982 10 Washington Sculptors, International Sculpture Conference, San Francisco
1982 Grantees Exhibition, DC Arts Commission Washington, DC
1982 Gallery Stable Sculpture, Osuna Gallery, Washington, DC
1981 Color-Five New Views, Marlborough Gallery, New York
1980 Recent Acquisitions, Hirshhorn Museum, Washington, DC
1979 Directions '79, Hirshhorn Museum, Washington, DC
1978 Cornell Then/Sculpture Now, Herbert F. Johnson Museum, Cornell University, Ithaca, NY



LARGE SCALE INSTALLATIONS

The Phoenix Art Museum, Phoenix, AZ
State University of New York, Plattsburgh
De Cordova Museum and Sculpture Garden, Lincoln, MA
Hirshhorn Museum Sculpture Garden
Socrates Sculpture Park, New York
Phillips Collection, Washington, DC
American Institute of Architects Headquarters, Washington, DC



SELECTED PUBLIC COLLECTIONS

Albany Institute of Art and History, Albany, NY
Baltimore Museum of Art, Baltimore, MD
Bioethics Institute, Johns Hopkins University, Baltimore, MD
Blanton Museum of Art, University of Texas at Austin
City of Beijing, China, 2008 Olympic Park Exhibition Collection
Carnegie Institute of Art, Pittsburgh, PA
Corcoran Gallery of Art, Washington, DC
Chautauqua Institute, Fowler-Kellogg Art Center, Chautauqua, NY
Dayton Art Institute, Dayton, OH
Dallas Museum of Art
Delaware Museum of Art, Wilmington, DE
Denver Art Museum, Gift of List Foundation, New York
Federal Reserve Board, Washington, DC
Grounds for Sculpture, Hamilton, NJ
Gulbenkian Museum, Lisbon
Hirshhorn Museum and Sculpture Garden, Smithsonian Institution, Washington, DC
The Museum of Fine Arts, Houston, TX
Herbert F. Johnson Museum of Art, Cornell University, Ithaca, NY
Mr. & Mrs. Robert Levi Foundation, Baltimore, MD
National Museum of American Art, Smithsonian Institution, Washington, DC
Newark Museum of Art, Newark, NJ
Museum of Modern Art, Gulbenkian Foundation, Lisbon
Phoenix Art Museum, Phoenix, AZ
The Adirondak Museum, Blue Mountain Lake, NY
The Phillips Collection, Washington, DC
Tsinghia University Museum, Beijing



SELECTED CORPORATE COLLECTIONS

Artery Organization, Bethesda, MD
Harris Trust & Savings Bank, Chicago
Prudential Life Insurance, Newark, NJ
Mountain Bell, Denver, CO
Norwest Bank, Billings, MT
Peat Marwick Inc., Montvale, NJ
Rouse Company, Baltimore, MD
Progressive Corporation, Cleveland, OH
Tramell Crow Co, Washington, DC
Schnader Harrison Segal & Lewis, Washington, DC
Wilmer Cutler & Pickering, Tyson, VA
Deltec Corporation, Washington, DC
Buchanan Partners, Washington, DC
Hechinger Company
MCI Corporation - East Coast Headquarters, Arlington, VA
Gulf Co., Aspen, CO
Work Selection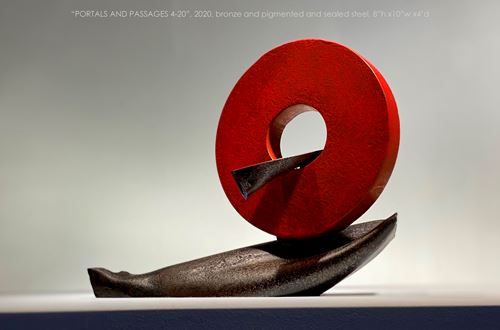 Portals and Passages 4-20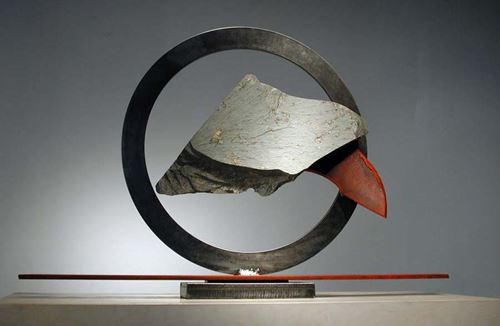 Sisyphean Circle Beijing Series XXXII