Susanne Kamps (Germany 1967 -)
---
About
The paintings of Susanne Kamps are chromatic organisms, entirely of their own kind. On the
one hand, they assert their obligation to tradition, on the other hand they celebrate individuality
and boundless independence, as if they never heard of the great role models they evoke…´
wrote one art critic, adding: ´And the beholder, the more he or she tries to grasp the tension,
experiences deja-vu – the ´aha´ effect. Who would not, while looking at the painting of Susanne
Kamps, think of Matisse…´ - and indeed, her painting Behind the screen, shortlisted for the 5th
Edition of the Young Master Prize, pays homage to Matisse´s Interieur aux aubergines (1911).

Susanne Kamps studied under the late Prof Herman-Josef Kuhna at the Academy of Art in
Munster, Germany. She works in Dusseldorf, and has also worked in France during several
extended stays in Paris (Cite des Arts) and at Roquebrune on the Cote d´Azur. She has also
worked in Israel at the Ein Hod artists´ village. Her paintings have been shown in Germany,
France and Israel and are in several collections, including the German Re-Insurance Company,
WGZ Bank and the Heuking, Kühn law firm.
Work Selection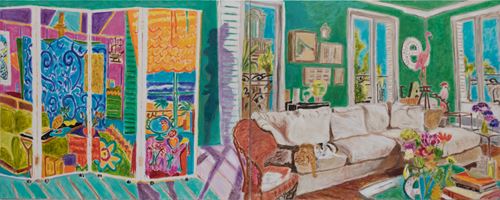 Behind the Screen, 2019