Preta Wolzak (The Netherlands 1967 -)
---
About
Preta Wolzak is a multi-talented artist that mainly makes big works combining hand-embroidery with appliques of leather and fabrics on a background of photographs.
After graduating she has worked in commission in applied arts: she made illustrations for book covers, she designed and made furniture, designed exhibitions, designed interiors for private people and companies. Since 2008 she has made jewellery under the name Fortblink, and in 2013 she had her creative store Old Fort On Dun on Oudeschans in Amsterdam.

"Displacement", or "Alienation", is what it often boils down to in my work, says Preta. I have an intuitive work process; the images usually simply pop up in my head. Once I've recognized their meaning and value, I start to materialize them. The techniques I apply, may range from photography to pencil drawing and embroidery. The majority of works are unica, some are made in a small edition.
In my world, tradition and experiment go hand in hand, as do roughness and refinement, sincerity and weirdness, fate and personal development. In the works, this can be seen reflected by bold combinations of traditional and new techniques, ancient and brand-new images, or by plain objects in a sumptuous setting. Without a hitch, traditional, subtle colour hues in fine yarn, may be mixed with fluorescent, hi-tech artificial fibres.
Exhibition
2019 | 'Wolzak & Kosters Serieus Business' at Museum Rijkswijk, Netherlands
2019 | 'Migrating Textile' at Nieuw Dakota in Amsterdam, Netherlands
2018 | 'HotchPotch' at Gallery Rademakers in Amsterdam, Netherlands
2018| This Art Fair in Amsterdam, Netherlands
2018 | Pulse Art Fair in Miami, USA
2018 | PAN Amsterdam, Netherlands
2018 | KunstRAI Amsterdam, Netherlands
2017 | Aqua Art Miami, USA
2017 | PAN Amsterdam, Netherlands
Work Selection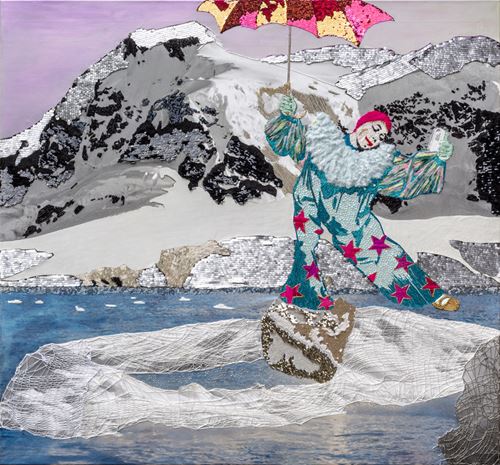 Arctic Charade Beers 1, sequins acrylics yarn wool silk cotton garment on canvas